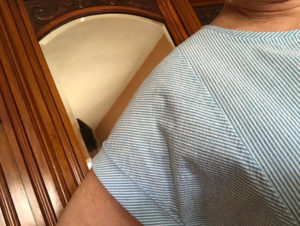 You know how I get when a trip is upcoming; I want to sew-sew-sew and wear all me-made garments on the trip.
For my upcoming trip to Bali, the travelers on the tour have been warned to be prepared to be dinner for lots of mosquitos carrying lots of "bugs." I'm taking a strong DEET mosquito repellent spray, plus mosquito repellent wipes, plus a repellent with eucalyptus oil, plus a product called Permetrhin that you spray on your clothes before traveling.
Here's the description of Sawyer Permethrin Insect Repellent Spray:
"Permethrin, is a synthetic molecule similar to pyrethrum that is taken from the chrysanthemum flower. When applied to clothing, Sawyer Permethrin Clothing Insect Repellent binds to the fabric, eliminating the risk of over-exposure to the skin. Permethrin is odorless when dry and will not stain or damage clothing, fabrics, plastics, finished surfaces or any of your outdoor gear. This 24-oz container of Sawyer insect repellent employs an easy-to-use trigger spray for effective, effortless application. Applied to clothing and other fabrics, each application lasts through six washings or 42 days of UV exposure."
Although the literature indicates Permethrin will not harm fabrics, even silks, I'm hesitant to spray it on expensive tops. So i wanted to make a couple of lightweight cool tops that I didn't care about damaging (if the literature lied).
I dug a couple of old pieces out of my stash—a lightweight turquoise and white pinstripe seersucker and a white linen with a tiny black pinstripe running lengthwise. More on the linen in a couple of days.
I dug through my pattern stash and chose StyleArc's Courtney top to make in the seersucker. It sews up quickly and as soon as it was done, I threw it on with a pair of white cropped knit pants. I was instantly in love.
Here's the pattern review:
Pattern Description: An everyday top with interesting design lines
Pattern Sizing: Misses 4-30. I ordered a 16.
Did it look like the photo/drawing on the pattern envelope once you were done sewing with it? Yes
Were the instructions easy to follow? Typical StyleArc instructions – short, sweet, and to the point.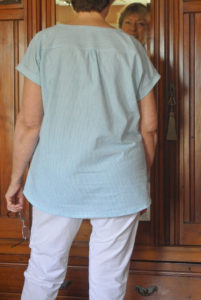 What did you particularly like or dislike about the pattern? The design lines on the top front and the cut of the neckline make for a very flattering top.
Fabric Used: Pinstripe Seersucker from my stash.
Pattern alterations or any design changes you made: I'm 5'8″. Added 2″ to the length. I'm a 38DD and did not make any changes to the bust! Yea!!
You may have seen that I wrote a review of this in January when I made it up in a knit. After wearing the knit version a couple of times, I really felt like I was wearing my pajamas. Go down a size when making it in knit.
Would you sew it again? Would you recommend it to others? This is my second time around and I've already cut out a third in linen.
Conclusion: Perfect lightweight top for my upcoming Bali Fiber Tour. Easy make – cut it out the night before, and have a new top before noon the next day. This is a keeper!