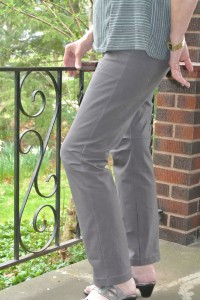 After seeing these pants, Vogue 8859, worn by several friends, I wanted to try them. I've been investing heavily in Eileen Fisher pants over the past few years, but about $150 per pair, on sale!, is a lot for me to pay for a pair of pants. It limits the size of my wardrobe – heaven forbid!
I wanted gray pants for my upcoming vacation, so picked up a lovely piece of gray stretch cotton from Marcy Tilton's brilliant online fabric store.
I was very anxious about fitting the pants, as I typically have a love-hate relationship with pants patterns. I love the look, the pattern illustration, but once I get it made up, I am disgusted with the fit on my body. So I took several measurements and compared to the pattern before cutting, and was bolstered by the fact that the fiber content included lycra. I cut the side seams at 1″ rather than 5/8″, just to give myself some room for alterations.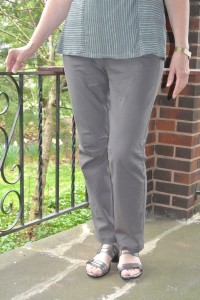 The pattern goes together so quickly. I love the tucks at the knee in front, and the seam at the knee in back. I think I left the elastic a little loose in the waist, but as they are going to be used first on vacation (a food and wine tour of Burgundy and Champagne), maybe I'll want a little tummy room.
The pockets are a nice touch, although I don't anticipate ever using them. I had the opportunity to do a little of the handwork that I love so much on the pockets, as I had already fused them in place for topstitching when I realized I had not sewn the top hem.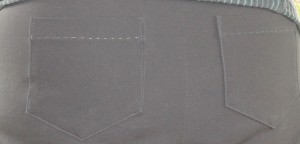 So I cut some of the Cosmo embroidery floss I had picked up at Olive Grace Studios on a little road trip a couple of weeks ago. As the owner had said, the floss was a joy to stitch with, and now I have a little personal touch on the pants that (probably) only I will know about, as I will always wear these pants with hip-length tops.
One of my favorite teachers, Nancy Shriber, says you should always have a personal touch on the inside of a garment you make, a little treat only you know about. And, she continues, you should always have some special touch on the back, because you not only leave enter a room, you leave a room. I think my pocket embroidery counts for both!
Will I make up this pattern again? You bet! I'm waiting for my order of Cocoa Canyon Stretch Woven to arrive. And then I want to try Katherine Tilton's Vogue 8837. Could it be that my dependence on Eileen Fisher is waning?
If you're curious about the top I'm wearing with these pants, that's the next blog post. Gotta take advantage of Designated-Photographer Boyfriend's day off!