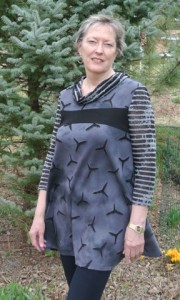 Another piece of yardage I brought home from California made it to the top of my list this week. When I bought the fabric, a luscious double-layer fabric that's comprised of a sheer black knit and what looks like your favorite old comfy gray t-shirt gone all wabi sabi on you (thanks, Nancy Shriber, for the term), I had no idea what it wanted to be. When I first picked it up off the counter, I thought it would make a great extended front for an old Eileen Fisher boiled wool jacket I had dyed black. But the more I gazed at the fabric and the jacket, I was having no epiphanies.
I've never seen a fabric like this. The two layers appear to be fused together. Random three-pointed stars are stitched through the two layers and the top layer pulled away and cut around the stitching. The t-shirt fabric then rolls a little to the right side. It has a mola or Alabama Chanin stitch sense to it. I got the fabric from Marcy Tilton—alas, it appears to be sold out.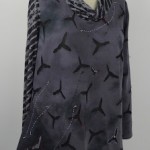 A week or so after I got home, Katherine Tilton blogged about the wardrobe she was compiling for her week at Puyallup. (Photograph—at right—©2013 Katherine Tilton) Guess what was at the top of her list. Yep, that fabric. Katherine chose to use her Vogue 8793 (which I made up while I was at DOL Santa Barbara and blogged about recently). But the fabric Katherine paired with the stars blew me away. I had a bit of that fabric left over from my first take on Katherine's Vogue 8817, and already knew I loved the burnout stripe. So I jumped over to Marcy Tilton's fabulous fabric store and grabbed some more.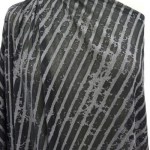 The pattern I chose—Vogue 8817. Again. Without a second thought. I love the shape of this top. Where I made the first one with the curved hem (short in front, longer in back), I wanted this hem straight, so I cut both front and back to the center back length. I dropped the neck opening by an inch in the front, and cut a rectangular cowl collar. Because of the size of the neck opening, this cowl ends up being almost more of a portrait collar, which—again—I love. (Man, I'm throwing that love around a lot in this post, but maybe that tells you something.)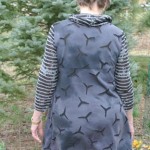 I wanted something different from the stars for the middle neck piece in the front, but didn't want to use the burnout there also, so thought I'd search for a nice black jersey that would blend well with the stars. I recently discovered The Cloth Merchants on Facebook, so searched their site, where I hit the jackpot on a piece of black viscose knit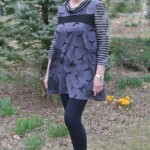 Once I got the various pieces cut out and assembled, I was almost finished with the top. However, I had looked at the topstitching on Katherine's top, and longed to add a bit of that to mine. I love delicate and precise handstitching, but when I did a couple of test samples, I wasn't pleased with how mine was coming out. For me, the double-layer knit didn't lend itself to my topstitching.
Did that lessen my love for the top? Not on your life. I put the top on, slipped on a pair of black leggings and my little Eileen Fisher ballet flats, and out the door I went to take granddaughter to dance class.
Another winner from the brilliant team of Katherine and Marcy Tilton.
Final note about these t-shirt patterns Marcy and Katherine have available on the Vogue website. They are simple and elegant, and go together in a jiffy (or gypsy, as my now-adult sons said when they were little). I started this one Easter Sunday morning hoping to get it finished in time to wear to the matinee of "The Book of Mormon" in Pittsburgh that afternoon. I missed by less than an hour. You just can't go wrong with these patterns.
Photo disclaimer: Today was the first really spring day we've had, and the wind was trying to prove a point. My photographer thought you'd enjoy seeing the crocuses.