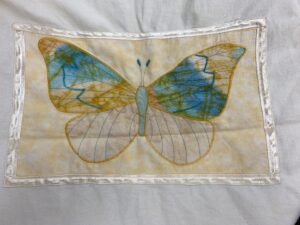 Back in the early 2000s, when my two grandbabies were born, I bought them each Barefoot Dreams Receiving Blankets from Nordstrom. These were the original Barefoot Dreams blankets. They were flannel on one side and a polyester satin on the other side. They were bound with satin piping, and my first babe loved to rub that satin while falling asleep. On the flannel side was a satin square, with the following words woven into the square: "Laugh With Me," "Dream With Me," "Grow With Me," and "Cuddle With Me." The receiving blankets measured 27″ x 36″. (How do I know this? Because there's one new receiving blanket on eBay, for sale.) Barefoot Dreams also made what they called a travel blanket. This was made the same, with the satin for fiddling with, and they measured maybe 16″ square. My daughter-in-law always kept a travel blanket in the car. The babies LOVED all their blankets. The elder baby was the most attached to their blanket, and repeatedly wore them out. The blankets cost about $50, which was a lot for a security blanket, and I bought quite a few of them through the years. When the younger grandchild was about four, they asked me to make them another blanket after wearing the latest one out, and specified that it be in yellow, their favorite color. I hadn't thought about that blanket in years.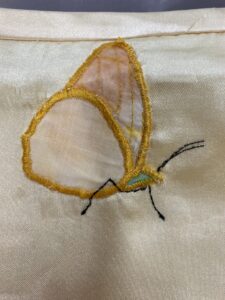 Now that baby is about to turn 21, and is living with me while between jobs. This afternoon I was in my sewing room, and she walked in, asking if I could fix something for her. I looked up, and here was the yellow blanket. Holy cow! What a long and beloved life that blanket has had. The only things I remembered about the blanket was that it was flannel and satin, and that it was a pale, buttery yellow.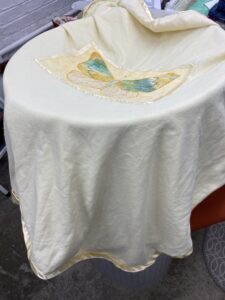 As I looked at and fingered it, trying to figure out how to resecure that small butterfly to the flannel without taking the blanket apart or damaging it, I was astonished at the creativity and quality of my work from sixteen years ago. I don't know where I found the drawing or pattern for the large butterfly, or where I got that beautiful turquoise and yellow fabric. Nor do I remember making the small butterfly. But I think they're brilliant! The creativity of my 54-year-old self surprises me.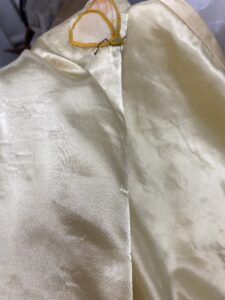 Most importantly, I'm so glad to see this blanket again, and to know how many hours and years of security and warmth it has given my precious granddaughter, who has always held my heart in her gentle and beautiful hands.
Thanks for walking down Memory Lane with me.