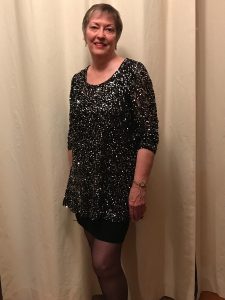 While we in the opera program at YSU's Dana School of Music were preparing for our spring opera weekend, the program director, my boss Dr. Yun, asked if I would accompany the trio from Mozart's "The Impresario" for an upcoming gala. The event was sponsored by YSU's College of Creative Arts & Communication, of which Dana School of Music is a part. I put it on my calendar and promptly forgot about it.
The three weeks leading up to opera weekend are the busiest of the year for me. I don't see my guy except when he's sleeping and for five minutes in the morning before he leaves for work; I don't do anything but make music and drive my high school carpool. I certainly don't have time to sew. I asked Dr. Yun what we should wear for the gala performance, and her response scared me: "As fancy as possible." Hmmm. I'm the epitome of simple—at least in my mind. I own a few dresses, street length, that I've worn before to a gala and to weddings, but I think I was five pounds lighter at each of those wearings. I couldn't picture wearing them and being comfortable sitting on a piano bench. And I certainly didn't have time to either shop or make anything.
What to do? What to do?
And I remembered a sequined piece of stretch lace that I bought at Fabrix in San Francisco while on a shopping jaunt with my fiberfriend, Shams, who blogs at "Communing with Fabric." That trip was in September of 2014, and this fabric has been languishing in my stash ever since, calling "Make me, make me" everytime I opened its resting place. When Dr. Yun said "fancy," I immediately thought of those sequins.
My TnT (Tried-and-True) t-shirt pattern has been getting a lot of attention from me lately. I could just grab that, cut, sew, and be done without taking too much time away from the piano.
Round 1 for this pattern happened several years ago in a poly medium-weight jersey also from the 2014 trip to Fabrix. I made this and promptly forgot about it, never showing it on this blog. It's very comfortable, but I prefer looser fitting tunics, as I'm in an unhappy-about-my-weight period. I try to disguise my belly as much as possible. I know what you're saying: "Get over yourself!" During this weather-crazy spring, I've come to love this tee with black ponte elastic-waist EF slacks and a black Talbot's no-close cardigan.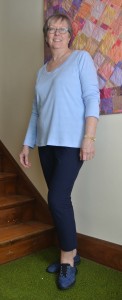 Round 2 went to a lightweight cotton knit with little stretch, made before my Interlochen summer of 2015. This version, without the hem and sleeve bands, has disappeared from my closet. I must have given it to someone who liked it more than I, or to a charity bin. I believe this pattern needs good stretch to look good on a body. This fabric wasn't the answer.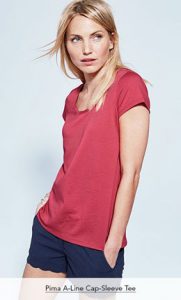 My attempt to hack this tee pattern began when I fell in love with two Garnet Hill tees I ordered for my aborted trip to Bali. I fell in love with everything about these tees. The fit was me. Folding my new tee at the center front, I laid it on the cutting table and laid the body front Renfrow pattern piece on top of it. I figured out that if I put the center front neckline point on the tee center front neckline, then pivoted the bottom side seam about to match the side seam of the tee, my bottom center front point was 1″ from the foldline of the tee. So that would be my hack. Pin the neck to the folded fabric, then pivot an inch out at the bottom, determine how long I wanted it to be and add that many inches all along the bottom and extending the side seam down that number of inches.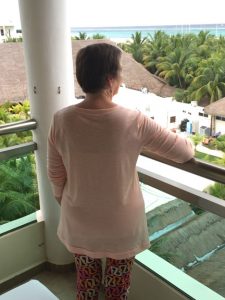 I had bought a pair of LulaRoe leggings from a friend who was in that biz and wanted a top to go with them for our winter Mexico vacation. I bought a piece of rayon/spandex slub jersey knit in peach from Hart's Fabric and started the experiment. I decided to add 8″, which would include about a 1½" hem, so 5½" more than the Renfrew front pattern piece.
[Note: The Renfrew has a bottom band on the body and on the sleeves. So the length of the front piece I was using is not the actual length of the shirt. It's the length less seam allowances less the band. If you're attempting this hack, measure that pattern piece and compare it to your body or your favorite tee. How much longer do you want it be? How deep a hem do you want? Add the total of those two numbers to the bottom of the pattern piece when cutting. And also remember than your hem will not be a straight line perpendicular to the center front point. Let's say you're adding 8″, as I did. You're going to lay your ruler along the side seam and continue that angled line down 8″. Then every couple of inches from that point across to the center front, you're going to lay your ruler with the 8″ mark on the pattern bottom and make a mark. Once you've marked all the way along the bottom, you'll cut along those marks from center front to side seam. That will give you a gently curved line which will result in a straight hem once the garment is on your body.]
While cutting out the top, I started thinking about how to wear it. Lace is seethrough and I'd need either a lining or something underneath it. I thought of lining the body, but not the sleeves, with a lightweight silk and cotton knit that I had just enough of. But if two fabrics don't have exactly the same amount of stretch in them, the garment is never going to lie flat and smooth. So I turned to the email group I'm a part of; these sewists are all alumnae of the "Design Outside the Lines" retreats that Diane Ericson (formerly along with Marcy Tilton) leads. We've all studied with the same teachers and are all fearless when it comes to trying out techniques and learning as much as we can about fiber and fabrics. When I asked these women how they might approach this problem, several said I should make two separate garments—the sequined lace tee and an identical sleeveless tee from the black silk/cotton jersey to wear underneath. Grateful for their advice, I forged ahead with the lace, ignoring the lining need for the moment.
Sneaking fifteen minutes here and thirty minutes there, by Thursday afternoon of gala day, I had the long sleeves sewn to the armhole but hadn't sewn the body and sleeve side seams or hemmed either. I threw the half-finished garment into my music bag and took it along to Dr. Yun's 4:00 seminar, where I had to accompany my singer Olivia in her performance. I pulled the unfinished tee out of the bag and showed it to the two sopranos who would be performing that night. I felt it was way too bright and sparkly and would overshadow the singers—something one never wants to do. But they both said I should go for it. And then I showed it to Dr. Yun. She said I should finish it and let her wear it! So still skeptical, I raced home after seminar and finished the top at 6:00. I had to be at the hall where the gala was being held at 7:30. I had just enough time to wolf down some supper, changes clothes, add some make-up, and drive downtown.
I own numerous black tanks, many in a silk knit, that I wear under sweaters all winter long. Sorting through several of these, I picked one that was about the same length as the lace tee, and slipped an above-knee EF knit skirt under it, along with black sheer stockings and microfiber peep-toe slingbacks. For jewelry, I wore a pair of rhinestone drops that I bought along with a matching bracelet at a yard sale five years ago for $2.00.
From the moment I walked through the performers' entrance to the hall, I started receiving compliments. And always I replied, "Thank you. I made it." One of the servers said she'd like one. When I got home and told that to the Jazzman, he said I should offer to make her one for $275.
I'm writing this post on Sunday morning after the Thursday evening event, and I still smile every time I look at that picture.
I took a chance. I went wayyyyyyy outside my comfort zone. And I felt stunningly beautiful. I don't think I've ever experienced that feeling before in my life.
Yea, me. And yea, Shams, for encouraging me to buy the fabric. And yea, Francesca, Becca, and Dr. Yun, for encouraging me to wear it even when every fiber of my being was saying, "Don't you dare outshine the soprani."
#win