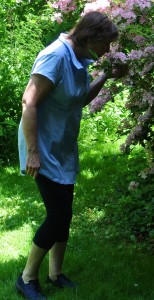 That danged clock keeps ticking. I'm now less than a month from the day I leave to drive to Interlochen. I've got to go to Asheville this weekend for my mother's 102nd birthday, and the 19th through the 22nd we're going to Toronto and Niagara Falls with friends to celebrate my [there's a five in it] birthday. I refuse to look at the calendar and calculate how much I have left to do before I leave. I'm just sewing and sewing and making myself crazy.
This afternoon I finished Green Bee Patterns' Frances dress. It was easy to procrastinate, as I just didn't love it. But now that it's done, I do kinda love it. It's very different from all the knits I've been sewing lately – all those Lagenlook-inspired flowy tops. But it's cute—especially with leggings—and a nice change. If northern Michigan gets hot this summer, it will be cool and nice.
<Short Story Time>
In 1989, my younger son went to National Music Camp (now Interlochen Arts Camp) as a 14yo percussionist. The camp sessions in those days were eight weeks long. We had carefully packed everything he'd need to live in a cabin in the woods in Intermediate Boys Division. A few days later he called me and said, "Mom, can you please send me another blanket and a fan?" I laughed and have been laughing about that for 25 years. That's what northern Michigan is like in the summer. It can be cool and rainy, or warm and rainy, or lovely. And it's frequently chilly at night. He used both that extra blanket and that fan all summer long.
<Short Story Time End>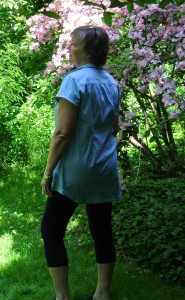 So I'll need sweatshirts and cool cotton shirts.
Here's the pattern review:
Pattern Description: This classic shirt dress features a short or 3/4 sleeve variation, front and back darts for subtle shaping, a yoke which the dress front and back gather into, a button placket, and collar. Stitch it in a single fabric for a classic look, or add a contrast fabric to the collar and placket.
Pattern Sizing: Women's sizes XS-XL included. I cut L and it fits the hips fine – see below for bust thoughts.
Did it look like the photo/drawing on the pattern envelope once you were done sewing with it? Yes – I used solid color, no contrast. I chose the short sleeved version.
Were the instructions easy to follow? Yes, with a couple of exceptions.
I wasn't clear on how to attach the collar. I spent some time picturing it in my head, then sewed right side of color to wrong side of yoke and front, pressing it out and hand sewing the folded edge of the collar to the right side of the yoke and front. That way, when the collar is folded, the whip-stitched part of the collar is hidden.
The instruction step for stitching the sleeve band to the sleeve was missing, although an illustration was there. This was another step I spent a lot of time working on and trying to envision.
What did you particularly like or dislike about the pattern? It's not really my style. I thought it would be fun to do the sewalong on Craftsy with Alexia, but life got very complex around that time. Then as I started preparing my wardrobe for six weeks as an accompanist at Interlochen Arts Camp this summer and the requisite dark blue bottoms/light blue tops uniform, I decided to do this top in solid light blue and save the Cotton+Steel yardage for another Swoon bag.
Fabric Used: From Fashion Fabrics Club, a pale blue shirting with 98% cotton and 2% lycra. Nice stretch, and it was on sale for $3.95. Can't miss!
Pattern alterations or any design changes you made:
I'm pretty particular about having my inside look as nice as my outside. The yoke is outside only, leaving all those edges hangin' out on the inside. So I scratched my head and tried to remember how to do a double yoke – from probably 20 years ago. Yea, not too many cobwebs in my brain!
I jury-rigged the inside yoke, as I didn't think about this technique until I had sewn the back to the yoke and topstitched. I folded under the seam allowance on the back of the inside yoke, then top-stitched it into place. You pin the front pieces to the left and right of the outside yoke. You can baste them in place if you want. Then roll the back up from the hem and wrap the other piece of the yoke around it, pinning the two yokes right sides together with the front pieces sandwiched between them. You stitch that seam, them you pull the back and the front out through the side and everything magically turns itself rightside out. Your raw edges are enclosed in the yoke, and the insides are beautiful.
When you attach the collar to the yoke and front neck, the folded seam allowance on the collar will hide all raw edges. When you attach the sleeves, you'll have those raw edges, but you sew a second row of stitching about 1/4″ from the first row, then trim the raw edges close to the second row of stitching. Those will be the only raw edges you have and they're not at all unruly.
This "burrito roll" is easy to do and fun – sorta like a puzzle. Here's a YouTube video that explains it better than I did.
The other change I made was to fold several inches out of the body front and back. I wanted a tunic rather than a dress.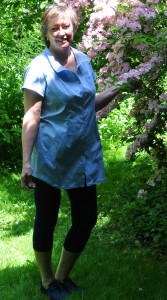 Would you sew it again? Would you recommend it to others? I won't sew it again, as it's really not my style. But I would recommend to others, especialy beginner sewists. Nice pattern.
NOTE: If you are busty, or low-busted, I recommend doing a muslin of the top as far down as the darts go. These darts hit me right on the bust apex and the pocket kinda points right at the "hill." (I'm a DD and somewhat low-busted. I had a conversation with Alexia before starting the pattern, and she thought it would be okay because of the gathering at the front shoulder – that I wouldn't need to do a FBA.)
When I get to camp, I'm going to see if it fits my Texas friend any better than it fits me through the bust. If so, and if she likes it, it will move to her wardrobe. If not, I'll probably wear a minimizer with it. But really, with the lycra in the fabric, it's not terrible. I'm just overly sensitive about drawing attention to the "girls."
Conclusion: I had a hard time getting through this project, as I wasn't in love with it. But once I finished it and slipped it on over calf-length leggings, I wanted to dance around. This will be a perfect summer outfit.
You can still get the kit through Craftsy. Honestly, the high-quality fabric and the pattern and as I write this it's on sale for $24.50 — a steal!
---
And if you have the slightest question in your mind, yes, I am still excited about working at Interlochen this summer. I have moments when I say, "Hey, Lady, you're old. WTF are you doing?" But then I remember how sweet the kids at Joseph Badger High School were to me this past year, and how sweet my opera kids at Opera Western Reserve are to me, and I know it will just be more of the same. I guess I'm just everybody's favorite GrandmaPianist.