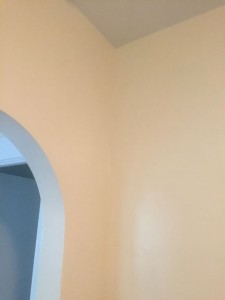 It's amazing what one brain can forget in six weeks' time. As I left the house yesterday morning to go grocery shopping, I had to stop and think what the process involved. Turn off the alarm system; wait, what's the code. Unlock the door to go to the car; wait, there's a garage door to open, where's the remote. As I reached down to turn the door knob to go outside, the plate behind the knob looked different, looked shiny, looked new. I looked at it for a few moments, then just figured I wasn't remembering what it looked like. After all, I've only owned this house for six-and-a-half years and used that door every day I was in residence. And I let it go.
Jas got off work early and did yardwork. Leslie arrived at 4:00 to use the printer and then take her dogs to the kennel. We had dinner scheduled for 6:30. At 5:00 I started preparing dinner. Jas walked into the kitchen, looked at me, walked over to me, put his hands on my shoulders, and said, "I have to tell you something." This phrase, spoken by any significant person in my life, whether personal or work-related, always strikes fear in my heart. The worst is always just ahead.
He turned me around so my back was to the sink and I was facing the refrigerator and the door to the rest of the house. "Notice anything?" he said. I started scanning the walls, and suddenly I realized the chipped paint that had been in the corner for two years was no longer chipped. I said, my voice showing incredulity, "You painted!"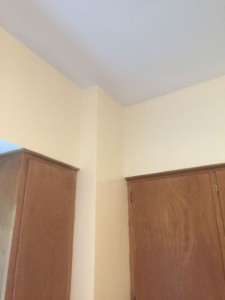 This guy works twelve hours a day, five days a week on the railroad. He works outside where it's hot, nasty hot in the sun. He spends time in a big shed where GM contractors are loading Cruze vehicles onto railcars. He walks back and forth on rock ballast, so that his knees hurt with every step and there's nothing he can do about it. He leaves home at 6:00 a.m. and arrives home after work at 7:00 p.m., then showers to remove the diesel smell and puts on clean clothes and eats dinner (when I'm gone, fixes his own dinner), then takes care of the books for his union local and finally sits down on the couch to watch some news programs, where he falls asleep within three minutes. Five days a week this is his routine. And while I was gone, he spent his weekends plus an hour or so every weeknight prepping and cleaning and painting our kitchen!
Our house was built in 1927. (Okay, I own it, but this guy has put a ton of sweat equity into it since our second date!) The kitchen and upstairs bath were renovated in the early 1950s, according to circumstantial evidence such as paint color and sink styles. In the kitchen, the sheet vinyl rolls at the seams and we place rugs over the seams to keep from tripping. The stove sits six inches away from the adjacent counter/cabinet, and the floor between was gunky and gross and hard to get at to clean. The wood cabinet doors were darkened around the handles from decades of greasy hands opening them. The hardware on the door hadn't been deep-cleaned in probably 60 years. The walls were an institutional blueish-greenish-nondescript paint color. The ceiling was peeling. (You liked that little rhyme, didn't you?) The only thing I had done to this room since moving in was to replace the windows from old metal jalousie windows that radiated frigid air during the long NE Ohio winters to winter-friendly double-paned windows. And we put in a new-to-us stove to replace the old stove that dated from, probably, the 50s or 60s. Every time we looked around the room when we were house-talking, we said, "Someday. Someday."
Jas had worked for three different painting contractors during earlier years, and the guy knows what he's doing. He doesn't paint over anything. He removed hardware, washed walls, scraped the ceiling, scraped the wall where the three or four layers of old paint were chipped, sanded and mudded and feathered the wall, cleaned the floor, scraping off old.old.old grease and grime, glued the loose formica-wannabe on the counter, cleaned all the hardware until it gleamed, steel-wooled the cabinet doors and drawers, and on and on. Preparation to the max, professional-level painting, all hardware looking like new, then perfect cleanup. Nothing was left undone. Amazing. Amazing!!!

This formerly dull, drab kitchen glows. It gleams. The buttery ivory walls reflect every wave of light. The white ceiling adds to the reflection. And the whitewhite glossy trim completes the equation. It's inspiring. I don't like to cook; it takes a lot to inspire me. This kitchen is truly inspirational.
How could I not have noticed this? When I looked at the walls while he was holding my shoulders and talking [proudly] about what he had done, I couldn't even remember what color the walls were before. He had to open the pantry door to show me the old color.
And after spending twenty minutes showing me everything he had done, we walked into the adjacent powder room and he showed me the paint chips he had collected for that room. He's going to paint my ratty 1927 powder room, too!!!!!!
I am awed at the sacrifice demonstrated in this act of kindness. I know how tired he is at night. I know how hard he works during the days. I know how he loves his weekends, playing golf with his buds, relaxing on the couch, going out to dinner with our friends.
The amount of time and effort and love that went into this project—I am humbled that that was all done for me.
(And I didn't even notice. I had to be told. Bad on me!!!!!)
(When he got to work yesterday morning, his coworkers all asked what I thought of his surprise for me. He had to tell them I didn't even notice. #hangingmyhead!)
Am I a lucky girl or what?!