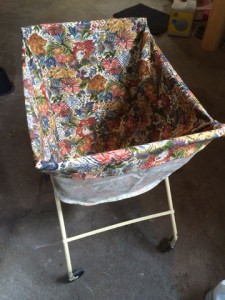 The previous owner of my house was a 92-year-old woman who had fallen and moved to a nursing home. She had never married, never had children, and her nephews were charged with selling her house. The nephews were all in their 50s and 60s and had no use for her possessions. Most of her things stayed in the house when I bought it. This was convenient for me, as I had gotten rid of many of my possessions in Tucson before I moved, knowing I would be living with my son and daughter-in-law for at least a year.
The sofa and loveseat that were seriously marred by catscratches were reupholstered and now stand in my living room and library. The dining room suite stayed in place; the two chests now hold my antique serving pieces. Matching dark green wicker chairs are on the side porch and allow us to eat our dinners in comfort all summer long. The most used item that stayed was the laundry basket.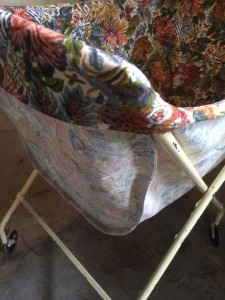 This is the old-fashioned folding laundry cart on wheels. My mom had one. If you were born in the 50s or earlier, your mom probably had one, too. The one in my basement laundry area probably dates from the 40s or 50s in this vintage 1927 house.
The woman I bought from was also a sewist and it looks like she made the laundry cart liner. It was an orange and yellow print, probably 100% cotton, probably bought from the sewing department of Strouss-Hirshberg or McKelvey's. But it had seen better days. Tears were starting to appear from overuse; if I didn't replace it pretty son, it would completely deteriorate and the dirty laundry would be on the floor!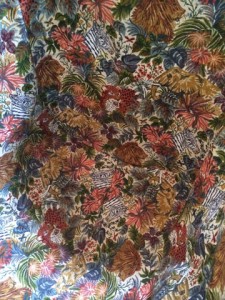 Yesterday I pulled the liner off the cart and started removing all the stitching. It turned out to be two major pattern pieces—the bottom and the sides, plus some seam binding for the raw edges. When it was all flat, I pressed the pieces, then started digging through my stash. Rather than stick with a gingham-weight cotton, I found some upholstery-weight cotton that had been stashed since Boston was born. Both Boston's and Ridley's nurseries had been decorated with jungle animal prints, and this midweight cotton/linen was printed with shades of olive and rust and gold, with zebras and lions and other jungle animals peeking out here and there.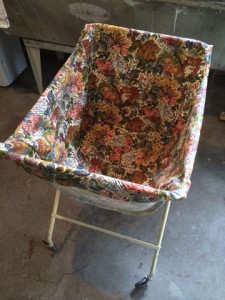 I laid out the fabric, laid out and pinned the pattern pieces to it and cut them out, making sure I remembered how I took it apart so I could put it all back together. Two hours later, I had a new liner for my laundry basket.
What had been a tough morning at the computer became a happy morning in my sewing room. And now, every time I roll the cart to the laundry chute to transport the next load of laundry, I will look at it and smile.
I'm thinking I might even make a pattern to sell on Etsy. If I needed a new liner, mightn't someone else, also? I think so.
Here's a little blast from the past for you from the Department Store Museum blog. Strouss' department store. Even a garden shop on the top floor!