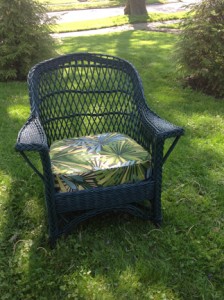 My home came with a lot of leftovers from the previous owner. That was fortunate for me, as I had been living with my son and daughter-in-law for a year before I bought this house. I had gotten rid of many possessions before leaving Tucson, after doing the ship-and-store or give-away analysis.
The wicker chairs on my porch are one example of the sort of items I "inherited"—items one doesn't need in a nursing home (where my home's previous owner went after leaving here). The cushions on the chairs were old and not very supportive, but still usable.
A year ago as summer approached, I shopped one of JoAnn Fabrics' sales and picked up outdoor fabric to make new cushions, along with foam cushion forms and zippers. And then it all sat in my sewing room for a year, taking up space and making me feel disorganized.
Last week I said, "Enough!" Summer is a month away and I want new cushions. I ordered some cool "wrap and fuse" cording from Nancy's Notions to make constructing the piping easier.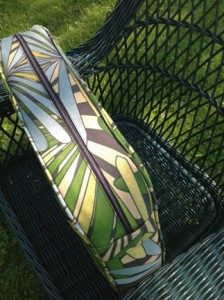 Here's what I'm proud of: I didn't look at a book or search the internet for a pattern. I had made several cushions 20-30 years ago, using the Singer Sewing Books for home furnishings. I laid a piece of newspaper on the chair seat and traced what I wanted, and set to work. I made some tiny little errors at decision points, but nothing that you would see when looking at or sitting on the cushion. I didn't have to reference anything!!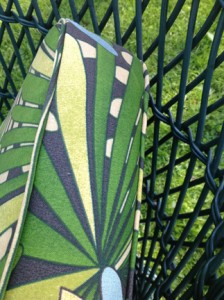 The only challenge was cutting the foam into the proper size and shape for the cushions. In the past I just drew the shape, then cut with an electric carving knife. Easy as pie! Not this time. Cushion technology has advanced, and these are harder to cut. After struggling with them for over half-an-hour, I drive to a nearby upholstery shop, where the nice man cut them both in five minutes and charged me nothing. Good choice!
I needed more piping than I had, so ordered more, which arrived Saturday. I was busy and set it aside someplace. Dang! Now I can't finish the second cushion until I remember where I set it!!
The next step in having wonderful cushiony chairs to sit on all summer is to figure out what shape and size I want for the back cushions.
Now explain to me why I've been procrastinating on this task for a year!!!