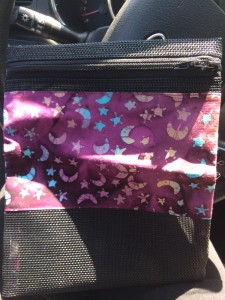 Thursday afternoon, around four o'clock, I was working killing time in the TV room when an incoming text pinged.
Here's what I read:
"So, I have now seen both [your sons] with these handy fabric/mesh bags that they carry all of their gadget cords in. Do you happen to have an extra?"
What a compliment! A) To notice something I made; B) To realize I made it; and C) To comprehend that you're in such high standing on my friend list that I'd make one for you in a heartbeat.
I didn't have any extras around, but I dropped what I was doing and ran to the basement.
I was able to immediately lay my hands on a piece of mesh already cut to a good size; some suitable fabric; a good zipper of the right size; the right color thread; and the can of Scotchgard. I didn't have to search for anything! That's big in my life!!
One hour later, I grabbed my car keys and drive the mile to the post office, where I handed it off to the counter clerk ten minutes before closing time. Two days later, at 10:00 a.m., it was deposited in our friend's mailbox in Amarillo.
Tomorrow it will travel to The Glass Furnace, about an hour outside Istanbul, Turkey, where our friend, a dance professor, will teach Pilates and yoga to glassblowers to help them in their work.
I've known this young woman for 20 years, and she's done nothing but grow more accomplished and lovelier across the years.
Wow! I know some pretty interesting people!!
---
Update: Picture of bag, filled with gadgets and accessories, ready to jump into carry-on and head to Turkey.