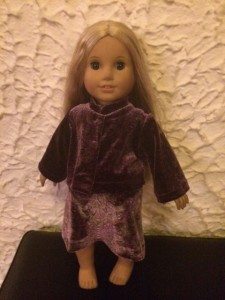 I was never a doll girl—at least, to the best of my memory. There were dolls in my childhood life, but they were never something I couldn't live without or something that I spent time playing with. I'd rather play with this toy where you had a square green plastic plate with holes in it, a whole bunch of flowers (I especially remember the daffodils, which we didn't have in Florida), and a planting tool with which you pushed the base of the flowers into the holes in the green square. I wish I could remember the name of that set so I could find it on eBay. I'd totally play with it today! (Just as my pushing-40 son loves to build Lego figures with his son.)
So when my DIL told me she was getting my DGD an American Girl® doll, I was kind of surprised. I have never envisioned DGD as a doll girl. But that first AG doll was followed a year or so later by another AG doll, and last November, when discussing Christmas lists, DGD told me her dolls needed Christmas party dresses. (Yes, I totally love that DGD just assumes I can make anything she suggests.)
Being the pushover grandma that I am, I started searching for 18″ doll clothing patterns. I found McCall's 3474 on eBay and a lovely purple paisley velour in my stash (which later yielded a tunic top for DGD to match her doll's outfit). And a pretty outfit for a doll emerged.
Here's the review:
Pattern Description: View A has jacket, top, and skirt; view B has jacket, top, pants, hat and scarf; view C has lined vest, top, flared pants and beret; view D has lined vest, top and skirt; view E has top and skirt; view F has top and pants. I made View A jacket and skirt.
Pattern Sizing: One size.
Did it look like the photo/drawing on the pattern envelope once you were done sewing with it? Yes.
Were the instructions easy to follow? Yes.
What did you particularly like or dislike about the pattern? Simple well-thought-out construction and classic styling. Jacket collar very easy to construct. Because I used a knit, the fit was a little generous. If I make it again, I will use a woven fabric for a sleeker fit.
I think the beret is darling, and I will use the rest of the fabric scraps to make that after the rush of the New Year settles down.
Fabric Used: Stretch velour from my stash, probably polyester. Quarter-inch seam allowances were a little difficult to maintain because of how the right-sides-together velour tended to nestle into itself. I recommend a woven instead.
Pattern alterations or any design changes you made: Flat sleeve construction; topstitched skirt hem rather than handstitching (because of deadline – and DGD doesn't care!). Used snaps for front closure and omitted the decorative buttons (only because all I could find on a rushed trip into Jo-Ann's were too large for the scale of the jacket).
Would you sew it again? Would you recommend it to others? Yes.
Conclusion: A cute classic pattern with multiple variations for an American Girl doll. If your DD or DGD is asking for clothes for her doll, you can do an entire wardrobe from this one pattern!