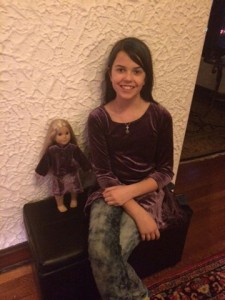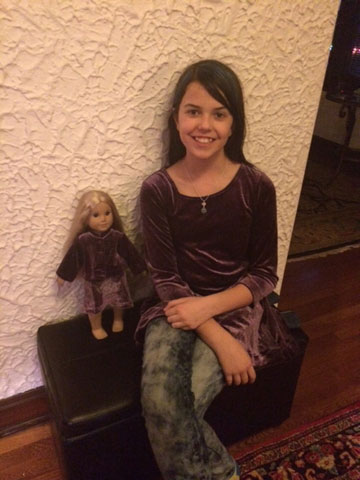 When Butterick 5954 was released last fall, I ordered it as soon as it went on ClubBMV sale. In fact, I ordered two (one in each size) so I could make one for a friend. And that friend is … DearGrandDaughter.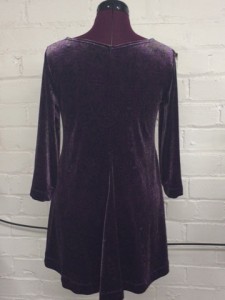 For Christmas, Ridley had asked for a Christmas party dress for one of her American Girl dolls. As I was nosing through my stash, I saw a lovely purple velour knit in a sort of paisley print. I believe I bought the fabric from fashionfabricsclub.com about 12 years ago. Simultaneously, I saw a pattern on eBay for pants, skirt, and jacket to fit the AG dolls. I made up the jacket and skirt out of the velour (review to follow), but then realized I had enough to make B5954 for Ridley.
You might remember when I made a top for her in early December. It was a Girls' 14, and was shortwaisted. I stated then that I must measure her before making anything more. Let me tell you why I broke that edict—the December top fit her perfectly in the bust. Only the length was a problem.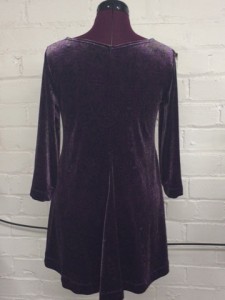 At 10, she is about 5'6″. I looked at the Misses' size chart for B5954, and saw that the Small would probably fit her in the bust exactly as the Girls' 14 had. So I just took a chance.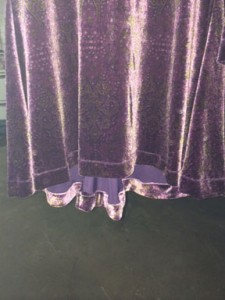 When I delivered the tissue-wrapped top to her last night, the fit was perfect. Neither she nor I could have been happier. Success!!
[Picture at left, see the excess at the back seam which gives the flare. Picture at right allows you to see the dip in the back. The picture above of the front view doesn't show that length difference.]
Here's the review:
Pattern Description: MISSES TUNIC: Close-fitting and flared, pullover tunic has front variations, shaped hemline and narrow hem. Wrong side shows on back hemline. C and D: collar.
Designed for lightweight Two-way Stretch Knits. I chose view B – collarless and ¾-length sleeves.
Pattern Sizing: Combinations: Y(XSmall-Small-Medium), ZZ(Large-XLarge-XXLarge) I cut a Small.
Did it look like the photo/drawing on the pattern envelope once you were done sewing with it? Yes.
Were the instructions easy to follow? I hardly used them. Only referred to how they wanted me to treat the neck opening.
What did you particularly like or dislike about the pattern? I would have preferred to put a binding on the neck opening rather than just turning and top-stitching, but it turned out fine. If I make that same neckline for myself on a future version, I'll use a binding that turns to the inside.
Loved the various versions. So much room for creativity!
Fabric Used: A velour (knit—fiber content unknown, probably polyester) purchased a thousand years ago from FashionFabricsClub.com.
Pattern alterations or any design changes you made: Cut the Small exactly as is. Used flat construction on the sleeves. Fused a soft knit interfacing to the hemline of sleeves and skirt. Used strips of the same interfacing on the back shoulder seam allowance to stablize that seam.
Would you sew it again? Would you recommend it to others? Yes and yes!
Conclusion: Beautiful, flattering top with a flare to the skirt. Lots of options for design possibilities. Bravo, Butterick!
---
What happens when you give a twirly girl a skirt with excess flare? Why, she twirls, of course.