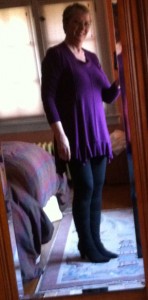 Here's the top I finished yesterday. It's another Katherine Tilton top, Vogue 8691.
I snapped a quick pic to send to Jas at work before I left to attend a performance of Mahler Symphony #2. As I was walking from the car to Stambaugh Auditorium, I realized I felt a tad exposed. I wasn't comfortable with how short the front was. No, you can't see my crotch, but it feels like you can. That just won't do.
This morning I tried it on with my EF black slim washable stretch crepe pants, and didn't like the look. That was going to be Solution Number One. But I prefer the look of this top with leggings, so I'm moving on to Solution Number Two: pool all my scraps from this top and figure out how to make the front "ruffle" 2″-3″ longer.
The fabric? Emma One Sock Mulberry 11 oz. rayon/lycra single knit jersey. Can you say heaven? This fabric is the softest, coziest fiber I've wrapped around my body in a long time. I want more-more-more!
Let me just tip my beret to Katherine again on this top. Those bottom "ruffles"? Topstitched into place! Brilliant!! No finishing required. And really, why would you need to? A) The knit doesn't ravel. B) It's at the bottom of the garment. Who's going to ever notice that you have a raw edge there? NOBODY! The ruffle is constructed in five pieces. The back piece is gathered to make it ripple and flow as you walk. Easy-peasy construction.
The other feature I love about this pattern is the center and princess seam finishing techniques. Sew the seam once, press it open, then topstitch with double needle and wooly nylon in the bobbin. Cool look!
I cut a size 16 with no pattern alterations and love the fit—with the exception, of course, of the front length (which I wouldn't have been able to figure out until I tried on the finished garment and walked around).
So it's back to the sewing room, and I'll post again when I solve this overexposure issue.