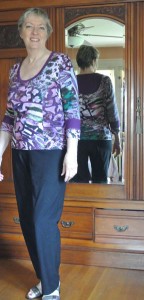 You've seen two versions of this pattern so far (1, 2). Those were all View C/D of Katherine Tilton's Vogue 8817. While I was in Santa Barbara for Design Outside the Lines, I saw two women wearing tops out of View B. It was very flattering on them, and I wanted to try it for myself.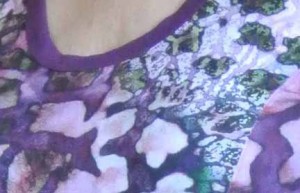 I had seen a gorgeous stretch rayon/lycra knit on the Emma One Sock site. The print is a mix of large abstract and small marbelized pools. Just gorgeous! The colors called my name. When the fabric arrived a few days later, I almost purred as I stroked it. It is incredibly soft, yet stable. I didn't have the layout issues that I have with a softer, lighter-weight knit. It cut easily, sewed easily, and finished up like a dream.
The way Katherine designed the front, it cups nicely, making a form-fitting—rather than boxy—top. The minute I sewed in the sleeves, basted the side seams and slipped it on, I wanted to shout for joy. This, my fellow sewists, is one nice t-shirt pattern.
Notice the inset in the back (in the top left photo). One could use a coordinating sheer or a knit lace, or a contrasting knit of the same weight as the body. Emma One Sock kindly posts virtual swatches of coordinating fabrics on each of their detail pages. So of course I grabbed a couple of yards of the mulberry rayon jersey. (No, I didn't need two yards for that little inset, but tomorrow you'll see the yummy tunic-length top of Katherine's that is coming off my sewing machine today.)
I inserted a folded strip of the mulberry in the under-bust seam so that a ¼" peeked out. I used it also for the back inset and the neck binding, then zigzagged a band, per pattern instructions, about 2″ from the bottom of each sleeve.
Where the three tunics from this pattern will all go with leggings or skinny pants, this top looks perfect—to me—with my Eileen Fisher straight-leg stretch crepe pants.
Yes, it will be going in my suitcase.
And yes, I will be making more of this top. Another tip of the beret to Katherine Tilton for a design very well executed.