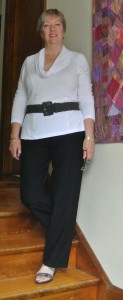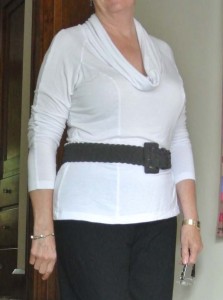 If you read my earlier review of Vogue 8837, you saw the new top I made to accompany that skirt for performances with The Cleveland Orchestra and Chorus.
For any woman who is a) endowed, and b) lacking in Full Bust Adjustment skills, Vogue 8831 is One Fabulous Top. And when I slipped it on today with my Eileen Fisher washable stretch crepe straight-leg pants and a wide belt for today's Fun With Opera performance at YSU's Dana School of Music, I realized I had hit the jackpot with this top. It will be worn again and again.
(Click on any photo to view larger version.)
---
Pattern Description: Close-fitting, pullover top and tunic have double-layered, draped collar, side front/side back seams and stitched hems. C: narrow hem, back longer than front (wrong side shows). A, B, C, D: cup sizes. I made View C. (I have previously made View A with a collar band, and View A with an abbreviated cowl).
Pattern Sizing: 6-22, cup sizes A-D. I cut 16 and D.
Did it look like the photo/drawing on the pattern envelope once you were done sewing with it? Yes.
Were the instructions easy to follow? Yes.
What did you particularly like or dislike about the pattern? Love the two-piece sleeves—very comfortable, very flattering. The neckline is a smidge cleavage-revealing.
Fabric Used: White knit; 95% rayon, 5% spandex, from Jo-Ann's. I typically buy fabric online from fabric specialty stores, but I waited until the last minute to make this top and was balancing sewing time with music preparation and rehearsal time, and didn't leave time to order anything. Hence, a run to Jo-Ann's. In retrospect, this fabric is too lightweight for this top. I would love the top in the 11 oz. rayon jersey with 4-way stretch that Linda Podietz sells at EmmaOneSock.com. But this will do, especially if I make a drapey vest that will hide the visible seam allowances at the bust.
Pattern alterations or any design changes you made: Raised the center front neckline 1″.
Would you sew it again? Would you recommend it to others? Yes, yes, yes!
Conclusion: Vogue has hit the mark with their line of Custom Fit patterns. And this pattern hangs right in there with the rest. This will be a Tried 'N' True (TNT) pattern for me for years to come. Thanks, Vogue!
---
Pants: Eileen Fisher straight-leg Washable stretch crepe. Worth every dollar. Despite being pocketless (can't carry anything in my pockets, but the pants have a smoother line), these are in my suitcase for every trip and every vacation. They've been all over Ireland, France, and Italy, and show no wear. They've sat on piano benches throughout Northeast Ohio, and show no wrinkles. They are, simply, the best!
Shoes: Naot again—these are "Afrodita." Bought these for our vacation in Italy last year, and wore them all over France this year. Naot makes the most comfortable shoes.