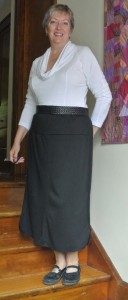 Musicians can never have too many black garments, right? I already own four black skirts. Two fit me. None please me.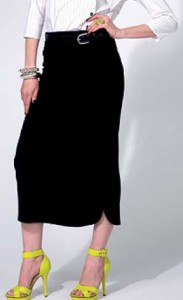 So for my Blossom Music Center performance last weekend with The Cleveland Orchestra and the Blossom Festival Chorus, I wanted a new skirt. I wanted it to be easy to create. And it had to be washable.
Ever since making a couple pair of Marcy Tilton's fast and easy pants (Vogue 8859 – take 1, take 2), I've been wanting to try Katherine TIlton's pants and skirt pattern, Vogue 8837. It looked like it would go together quickly and be very comfortable for standing and sitting on stage for an hour.
(Click on any photo to view larger version.)
---
Pattern Description: Skirt has self-lined yoke, overlapped side seams, and narrow hem. Close-fitting, elastic waist, and topstitching.
Pattern Sizing: XS – XXL. I agonized over this. In Marcy's pants, the size 16 looks like it was made for me. I thought about cutting a L, but was afraid it would be too small. I cut XL, and it's extra-large on me. (Duh!) When one is working with a knit, tissue-fitting the pattern just doesn't get it – y'know?! I did not recut or take it in to a Large as this will be fine and ultra comfortable for on stage. I won't wear it "in public" and will order more fabric to make one in size Large for wearing out to dinner with friends.
Did it look like the photo/drawing on the pattern envelope once you were done sewing with it? Yes.
Were the instructions easy to follow? Yes.
What did you particularly like or dislike about the pattern? Love the ease of construction. Love the yoked waist. Dislike the overlapped side seams.

Fabric Used: Great lightweight Poly-Rayon-Spandex ponte from The Cloth Merchants site. I will be buying more of this fabric!
Pattern alterations or any design changes you made: I do not believe one can fold and stitch the hem first, then do an overlapped seam and get a clean, smooth finish. My logical, programmer's brain objects.

I didn't like this method, with all due respect to Katherine. I tried different methods on each side seam, knowing I would always be standing at the back of the chorus when wearing this skirt, so no one would see the seams. (The perfectionist in me is cringing.)
Here's what I will do next time, and what I recommend for a nice clean finish: I would press the hems in from lower dot to lower dot, side to side. I would then stitch the side seams, right sides together from the waist to the lower dot, and press open. Then I would either baste or fuse the hems. Then I'd topstitch with a single needle on the front from waist, down around hem, and back up the other side to the waist on both front and back, and ditto on the back. This first row of stitching would be frac14;" from the seam and from the edge of the hem. I would then do a second row of stitching ⅛" away, duplicating that first row. On the inside, I'd trim the seam allowance to the second row of stitching. I'd also add some sort of reinforcing stitching at bottom of the side seam so an extra long gait wouldn't rip that opening.
I love the elastic waist with the elastic attached with one row of stitching inside the yoke. This is very similar to my favorite Eileen Fisher elastic waist pants. I don't know what type of elastic EF uses on those pants—when mine get worn enough, I'll cut the yoke open and see. Katherine's pattern calls for ¼" clear elastic. If you rely upon Jo-Ann's for your notions, you're out of luck. They no longer carry the ¼", only a ⅜" elastic. But that worked fine for me. The skirt—even in my oversized version—feels very secure and very comfortable and very easy to walk in when climbing stairs from the rehearsal hall and processing onto the stage.
Would you sew it again? Would you recommend it to others?Absolutely yes and absolutely yes. And the pants in this pattern, also!
Conclusion: Highly recommended skirt and pant pattern from the brilliant Katherine Tilton. Try it; you'll like it!
---
Okay, the top picture is frumpy. But when you're of a certain age and have arthritic knees, you wear frumpy shoes. These Naots are frumpy and absolutely the most comfortable shoes I've ever had on my feet. There are four of us in the chorus who wear these shoes. They are not cheap, and they're worth every penny. I've worn them all over Europe on three trips, and wouldn't trade them for the world.
And I posted a second picture for you showing the skirt with heels. Isn't it lovely? No frump involved! If I were twenty years younger, I would wear these pumps for performances. Alas.
Thanks, Katherine, for this great design!
Would you like to know how the orchestra and chorus did last weekend?
Review in the Cleveland Plain Dealer
Review at ClevelandClassical.com