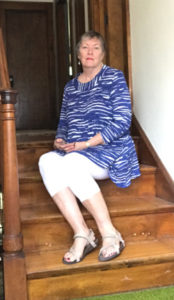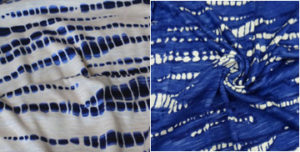 Back in March, when I was getting ready for a trip with my sister to California that never happened, and simultaneously trying to get everything ready for three weeks in Singapore and Bali, I made a new tunic. I love this rayon knit that I picked up from Crinklelove [.com] when they carried more knit fabrics. Now they seem to be more about quilts, and I only can find one instance of this fabric anymore. (If you're interested in grabbing a piece of this fabric in the inverse colorway, here's the Etsy link.)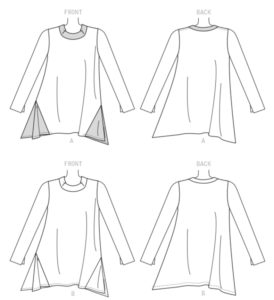 I used Marcy Tilton's Vogue 9272. I had originally thought maybe I would take it along to Bali for cool evenings in restaurants. Alas, the more I looked at the weather forecast as the trip drew closer, and after an email from the tour leader who said, "Jan? Are you kidding?", I nixed that idea. I wore the tunic once before I left for Bali, and I don't think I've worn it since. That's almost six months of a new garment just languishing in the closet.
Poor forgotten beautiful tunic. ☹️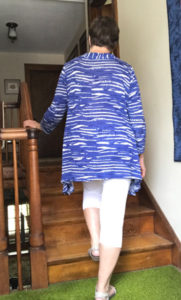 In Northeast Ohio, we have now—as of August 24—had two nights of 50-something degree temperatures. I'm loving it, and I'm loving the associated cool mornings. So for today's 10:00 a.m. pedicure appointment, I slipped on this tunic with black lightweight cropped leggings. I didn't love the blue and white with the black. It was okay, but I didn't love it. And while I was sitting in the pedi chair with the lovely Amanda working her magic on my feet, I realized I had never blogged this top.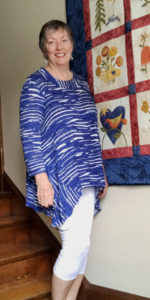 Blog posts need photos, you know. When I got home, I switched out the black cropped leggings for their twin white pair, and now I love the look. And the sandals they're styled with are Teva's Ysidro leather sandals that are my new favorite travel shoes. They're super comfortable, actually some of the most comfortable sandals I think I've ever worn, and have this brilliant strap in the back that prevents me from getting blisters on my heels. Score!! I was all alone at home and the camera wasn't working, so I kept leaning my phone against an open window to get these pictures. You take what you can get!!
Here, at long last, is the review:
Pattern Description: Fitted, pullover tunic has neck band and godets at side hem. A: Contrast neck band, godets. For moderate stretch knits only. (From the pattern envelope)
Pattern Sizing: XS-S-M-L-XL-XXL. I routinely take a 16 or a Large in Marcy's patterns. If this fabric had more stretch, I might have had to downsize. It's about a 50% stretch and the Large worked fine.
Did it look like the photo/drawing on the pattern envelope once you were done sewing with it? Yes.
Were the instructions easy to follow? Yes.
What did you particularly like or dislike about the pattern? I'm not much for the sides of the dress hanging down like this (not sure what that design style is called …) but I really love this pattern and how the finished top looks on me.
The godets were pretty full and I wasn't sure that's what I wanted.
Otherwise I loved the lines of the pattern.
Fabric Used: 95% Rayon, 5% Lycra. Very nice feel to the fabric, very comfortable.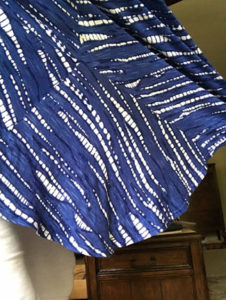 Pattern alterations or any design changes you made: As I said above, I wasn't sure I wanted the godet as full as designed. Then when I realized I didn't have enough fabric to make them as designed, that solved my problem. As I recall, the godet as designed is greater than a 90° angle—I'd have to go to the basement and dig out the pattern to check. But I think it's much fuller than mine, as shown here. I'm very happy with this. What I'm saying is, don't be afraid to play with the fullness of the godet.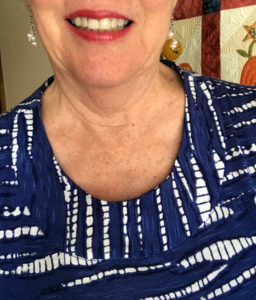 Oh, the neckline. If you look at the pattern sketch above, you'll see there are some funky pleats in the "collar." I was a) in a hurry, and b) unsure what to do about those pleats. I read a few reviews and several people said they had omitted the pleats. So that's what I did. I LOVE the face-framing nature of this neckline without the pleats. So happy I did it that way and will continue to do so with each subsequent make!
Most Big Four patterns are designed for a 5'6″ frame. I'm 5'8″ and normally add 2-3″ to Marcy's and Katherine's patterns. I think because of the godet I didn't add anything to the length. I wish I had 1″ more. So when I make it again, if I already added 2″, I'll change it to 3″. If I added nothing, I'll add at least 1″.
Would you sew it again? Would you recommend it to others? Absolutely.
Conclusion: A flattering top, perfect over skinny pants or leggings. I went outside my comfort level in making this top and am so glad I did.
---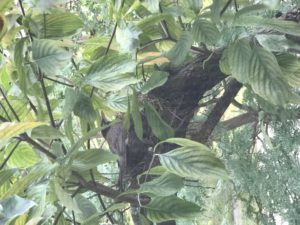 And to add a little sweetness to your day, we've got a late-season pregnancy going on in the dogwood tree outside our 2nd floor family room window. 😉 (Okay, humor me. I know it's not a "pregnancy." I just liked the sound of that.) Can't wait to see what comes of this effort.