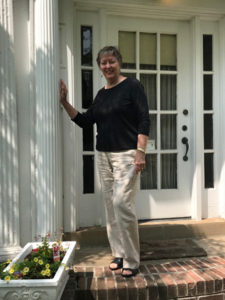 After so much travel, I've finally gotten my sewing mojo back. Before my travel to hot and steamy destinations, I picked up two pieces of linen at Jo-Ann. I normally do not utilize Jo-Ann's convenient location for fabric, but I didn't think I could go wrong with 100% linen. And, you know, coupons.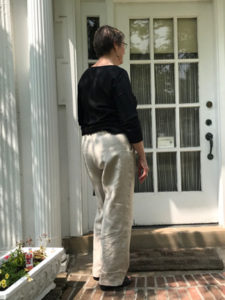 I wanted a couple of pair of lightweight, cool pants for my summer travels. Digging through my pattern stash, I chose the StyleArc Peta Pants. (StyleArc is an Australian company that turns out some wonderful designs of simple, classic clothes.) I first made a Peta muslin in an old piece of a high quality lightweight linen that had been in the fabric stash for about 20 years. I cut them above-knee length or, actually, as much as I could get out of the remnant I had. The fit was fine, so I moved forward. The bronze pair I cut sort of crop-length. They were finished before I went to Japan, and went along for the ride. And I made the tan pair full length, as shown in the pattern, but without the drawstring. They were cut out before Japan, but didn't get sewn until I got back. I was able to finish them before I headed to Interlochen to take the grandbabes up for camp. And that muslin, which was a namby-pamby light pastel—and that's NOT redundant—blue-violet? I'll be dyeing that pair with Procion MX Indigo and will have a bonus pair of shorts, now that it's starting to feel like fall. Oh, well, they'll be ready for next summer.
My newly 17-year-old granddaughter came over today to help me do some sorting and organizing with my stash, so the first task I gave her was take photos for me in the pants. That was much easier and faster than trying to do it myself.
Here's the review: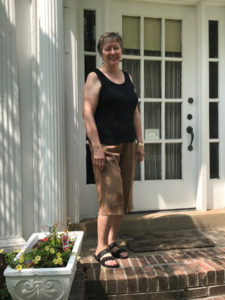 Pattern Description: "Great pull on pant with beautiful leg shape." (Quoting the StyleArc website.) Really, if you fold the hem up to the knee, in a size 16 it's about 1¾ to 2″ shy of being straight leg, i.e. it tapers in 1¾ to 2″ from the knee to the hem.
Pattern Sizing: 4-30. Pattern available in both printed and PDF. I cut a 16. I wear 14 in RTW.
Did it look like the photo/drawing on the pattern envelope once you were done sewing with it? Yes.
Were the instructions easy to follow? Typical minimalist instructions. The only problem was the pockets.
What did you particularly like or dislike about the pattern? Oh, the pockets. The pocket pattern piece is rectangular. The picture of the pocket pattern piece in the instructions is a typical in-seam pocket that you're used to seeing, if this is not your first pattern with in-seam pockets. On my muslin, I didn't bother with the pockets, so was unaware of the discrepancy between the printed pattern piece and the instructions. When I got to the bronze pair—the crops—I put the right pocket in using the pocket pattern piece that's provided, then I said to hell with the left seam and just sewed it as if it were intended to be pocketless.
For the tan pair, I spent time digging through my stash of patterns from the Big Four (Butterick, Vogue, McCall's, and Simplicity) to find a pair of pants with in-seam pockets from which I could borrow the pattern piece. Finally found what I wanted, redrew to match the shape of the side seam, lengthened the top so it would come up to the waistline fold and be fully enclosed in the waist casing. I followed the directions from the pattern instructions of the borrowed-from pants, and am very happy with how it ended up.
Fabric Used: 100% linen from Jo-Ann's, light- to mid-weight.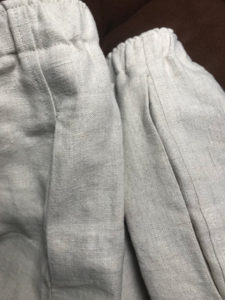 Pattern alterations or any design changes you made:
Here's a picture of the pockets—click on the photo to enlarge, then use your device touch screen to zoom to see the detail. (Oops, when I shot the picture just now, I realized I only edgestitched the right pocket, not the left.) My side seams and inseams are double-stitched about ¼" apart, as I would do with knits. And then the seam allowance is trimmed close to the outer stitching and zigzagged to prevent fraying. And look at that casing for the waist elastic. I'm in love! It's an incredibly comfortable finish, and quite pretty, if I do say so myself.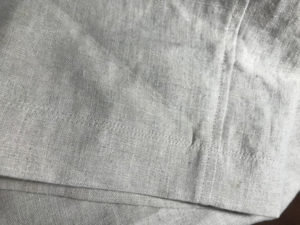 I cut 1¼" strips of fusible tricot interfacing, fused them to the hem allowances, zigzagged the raw linen/interfacing edges, then folded on the inner cut edge of the interfacing and pressed. This gives me a lovely crisp hem. The picture looks like it's double-needle stitched, but it's just a single needle run once around (I hand-baste from the inside along the cut edge of the hem so can get a very straight seam line.), then I moved the needle closer to the hem by about an ⅛" and followed the previous seam line around.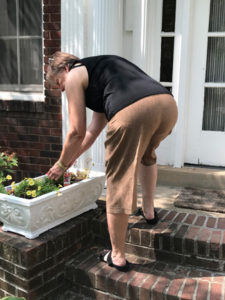 Would you sew it again? Would you recommend it to others? I actually prefer a narrower leg in my pants, but Peta definitely has a place in my wardrobe. For a straighter-leg pant, she'll now be my go-to pattern. Yes, I will sew it again.
Conclusion: The only reason I classify this pattern as Intermediate skill rather than Beginner is the challenge with the pocket pattern piece. If you're a beginner, make a different pair of pants or a skirt with in-seam pockets first, then make a copy of that pocket pattern piece and the instructions and store them with your Peta. Or just skip the pocket altogether. No harm done.
---
Let's be honest. I was hesitant to post the backside photo of the bronze pair. But really—aren't I better off knowing what I look like from the backside in these pants? For a 68-year-old carrying a couple dozen extra pounds, it's okay. It could be much worse. And now I'm motivated to step up my daily walks. (Besides, DGD said it looked okay. And she's 17. She wouldn't post a picture of her grandma if she was embarrassed by the way I looked in the photo. Would she???)
Pants styled with an Eileen Fisher cotton ballet-neck t-shirt and an Eileen Fisher silk knit tank. Mephisto platform mules from about fifteen years ago, and Vionic flat slides from last summer. Pictures taken on the front steps of my 90-year-old home.