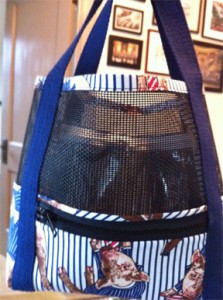 I spend Tuesday and Thursday mornings in the pool at the JCC Fitness Center around the corner from my house. First I take the class that's designed for arthritis sufferers, then I stay afterwards for an hour of water volleyball and laughter. This is a volleyball game unlike any other. There are three beachballs in play at all times, and every so often someone will call out, "What's the score?" Someone will shout back, "87 to 13", or some other random set of numbers. We have great fun, and we get darned good exercise.
I don my swimsuit with shorts and a t-shirt before leaving the house, but need something in which to carry my underwear on the way to class, and then my damp swimsuit and swim gloves on the way back home.
I have made many, many of Nancy Ota's Screenplay bags over the past ten years. I buy a roll of the screening at Home Depot or Lowe's and dig into my stash of high quality quilting cottons.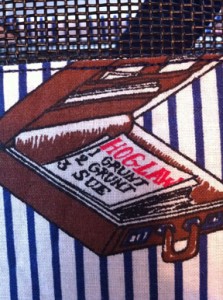 I have had this "hog law" fabric since midway through law school. Its tongue-in-cheek sense of humor delights all my senses. I made a cute little pair of knockaround shorts back in about 1989, and stuck the leftover fabric in my stash, where it's sat for 24 years!!
I was looking for a project one morning before I got on this vacation-garment kick, and saw those scraps. Voila! A new little bag. For me—for a change!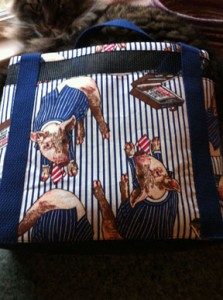 This bag is about 9″x9″x3″, has an outside pocket with a big black sport zipper, and has sturdy belting straps.
The unique feature to this bag, a feature I haven't tried before, is a clear plastic inside pocket. The sewing room straightening project, which unearthed this piece of fabric, also unearthed one of those plastic bags that new sheets come in. I cut the existing zipper and seam binding off the bag, then cut two rectangles,
zigzagged on a new sturdy zipper, and topstitched the pocket inside the bag. I love it! Why didn't I think of this feature ten years ago?!
Of the dozens of these bags I've made, most have gone to friends or charity auctions. Only three or four, in various sizes, have remained for my use.
Every time I pick up this bag and look at that hog lawyer with his striped suit and red tie, I relive a piece of the joy of having achieved a Very Big Goal.
And I smile.