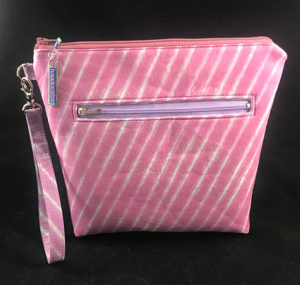 The first person Jas introduced me to after we met was one of his closest friends, a woman who shibori-dyed fabrics and made beautiful contemporary art quilts from those fabrics. Her creations are pretty stunning, as you can see if you check out her portfolio.
She and her husband invited us to dinner at their beautiful home this past Saturday night. She graciously told us just to bring wine, as she knows that I do not pride myself in my cooking. So I knew I had to make something.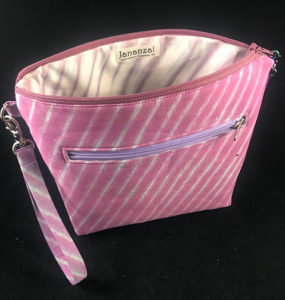 A number of years ago, when cleaning out her studio to move from one type of dyeing to another, and gave me several containers of her scraps. Oh My Gosh! These are exquisite fabrics. I dip into this precious stash whenever a group of our friends are getting together and I want to give them little bags. So that's exactly what I did on Friday morning. I made the best kind of hostest gift—something I made from something you made.
I came across a new-to-me bag pattern on Instagram recently that I wanted to try. It's Svetlana Sotak's Sotak Handmade line and is called the Elliott Pouch. You can find this pattern, along with all her beautiful bag patterns here in her Etsy shop. See more Insta photos of Elliott Pouches that other sewists have made.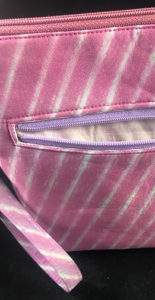 I finished the bag at 10:00 a.m. on Saturday. We were set to leave for their home at 6:15 that evening, and I had a ton of practicing to do throughout the day. So I wanted to quickly throw the pictures up on Instagram, but I didn't want her to happen across the photo.
So I texted her to please not go on Instagram during the day, unless she wanted to spoil her surprise. She knows the calibre of sewing I do, and couldn't wait to see the bag she knew she would be receiving. When we walked into her home that night, tissue-wrapped bag in my hand, she wrapped me in a hug and said, "Thank you. Thank you." I knew what she had done, and it made me smile.
She loved the bag. And took it with her on Sunday to a meeting of an artists' group she belongs to in Cleveland. She texted me that evening, "I took [my beautiful bag] to my group today and they absolutely drooled!"
Happy me!