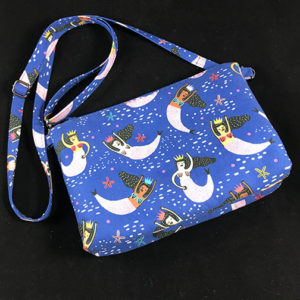 What happens when you want a new bag to take along on your beach vacation and then you run out of time? You get a cute bag to add to the stock in your Etsy shop.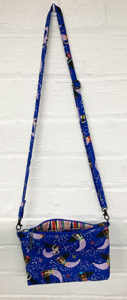 Sara Lawson's Sew Sweetness Paladin Pouch is a brilliant little multi-purpose bag. It comes in three sizes, Small (7" long x 5" tall x 2½" deep), Medium (9" long x 6½" tall x 3" deep), and Large (10½" long x 8" tall x 3½" deep). Sizes Medium and Large have an interior zippered pocket. All of them have a single exterior zipper that encloses all three pockets. You can purchase an instructional video where you can sew along with Sara as she constructs the bag—for this bag, I highly recommend watching the video. There are some tricks to making this bag that are not intuitive. And when you join Sara's user group on Facebook, you'll find likeminded "Bag Ladies" and "Bag Dudes" who are constantly supporting you and also finding ways to hack the patterns to make the bags their own.
Several people have asked me how to make the strap for this bag. Watch Sara's video on adding a crossbody strap to a bag, then leave me a comment if you don't understand. I'll try to help you out.
[Optional: I like to add fusible fleece to at least pieces 4 and 5 as I plan to carry my phone in the middle slip pocket and I want it protected. You can add fleece to all four exterior pieces (1, 4, 5, 8) if you want, but 4 and 5 or the crucial ones, in my opinion. I used Pellon 987F Fusible Fleece, and cut it ¼" smaller on all four sides to decrease the bulk when sewing those seams. I fuse the Shape Flex to the wrong sides of the exterior pieces, then center the fusible fleece over the Shape Flex and fuse the fleece in place, using a teflon pressing cloth.]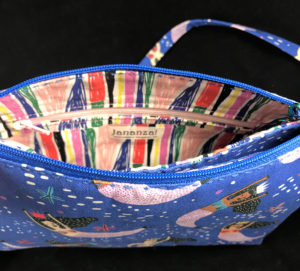 As I stated above, the Paladin Pouch pattern has a zipper that spans all the pockets, and Sara's design has that zipper extend out past the edge of the bag by a couple of inches, making it extremely easy to access all the goodies you've stashed into the pockets. I didn't think someone carrying the bag crossbody would want that zipper hanging out there. (Getting dirty, in my mind ….) So I decided to put zipper tabs on both ends of the zipper, which would be only as long as the bag was wide. The zipper was then sewn into place such that both ends were enclosed. (Again, if you're stumped, leave me a comment and I'll help you out.)
Further, Sara's design specifies that you don't top stitch the edges of the bag openings until you've finished the bag. This works fine when you've got a long zipper that opens wide to say "Ah!" But when you've got parts of the bag openings hidden underneath the zipper, you're out of luck. As I was scratching my head to figure out how to resolve this problem I had created, I remembered
a little bag I made for my then-little granddaughter
. The bag was the Coraline Wristlet bag, from Swoon Patterns. I printed this pattern at 80%, giving me a great little bag for a five-year-old sweetheart. But it was too small for topstitching, so I topstitched the edges by hand with perle cotton, and love the outcome. I decided to give these mermaids the same treatment, and again loved it.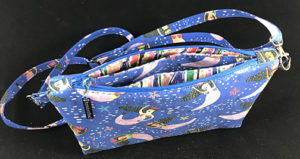 Is there a moral to this story? I guess it's that there's a solution to every problem you can create. And that every problem you solve makes you a more creative sewist. And that makes me happy.
Details
Exterior: Hello Lucky, Mermaids in Navy for Robert Kaufman Fabrics. Lining: Sioma, Wild Collection by Leah Duncan for Cloud 9 Fabrics. Hardware from Emmaline Bags. Zippers from Zipit on Etsy.