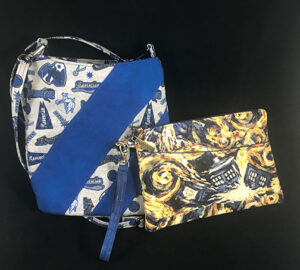 I made a bag for my friend Ellen's Whovian daughter, Esther, three-and-a-half (!!!) years ago. Ellen and I had lunch a couple of weeks ago and she told me Esther's bag was worn out from being loved to death. She asked if I could make the same bag again for Esther. The fabric I used for the first bag was an "Exploding Tardis" print. I had just a little Tardis fabric left over from the previous make and wondered what bag pattern would work with that amount of fabric. I settled on the Greta Wristlet Clutch from Teresa Lucio Designs, available on Bluprint (formerly Craftsy).
But Ellen was specific in Esther's loving the Ramona Mini Hipster bag—the size, the style—that I had made before. She also mentioned that Esther is also currently into Harry Potter Ravenclaw. So I searched for some Ravenclaw fabric, and when it arrived, started a Ramona.
My granddaughter, Celeste, was spending a few hours in the sewing room with me, and I used these bags to give her some bagmaking education. Then we went into COVID-19 self-isolation mode. (I've seen it referred to as isewlation.😊) I suddenly had lots of time on my hands and was able to finish both these bags quickly.
Esther will get two bags instead of one!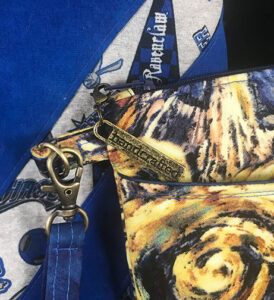 I don't really have much to say in a review of either of these patterns. I basically followed the pattern as is, or made minor changes based on earlier versions. I have made the Greta before, but seem not to have blogged about it. As I recall, my sister adopted the earlier bag. Note the zipper pull charm in this photo. That "Handcrafted" charm comes from Emmaline Bags in Spruce Grove, Alberta, Canada. She has "Handcrafted" and "Handmade" charms, along with the tiny clips if you make your own charms. She's very easy to deal with—shipping only takes a couple of extra days to arrive.
I used fusible fleece on both these bags, as I know a phone will be carried inside and I wanted it to be protected if the bag was dropped. On the Greta, I did not use the large eyelet, choosing instead to attach a D-ring to the side of the bag where the zipper pull is when the bag is closed. In my mind, that would keep the contents away from the zipper opening and prevent their falling all over the floor when the bag was opened.
And that's my sewing from week one. Stay sane. Stay healthy. Check my Facebook or Instagram feed, where I'm posting videos that will make you feel you're in the Nordstrom stores of the 90s, when every store had a piano. Or like you're in a piano bar. Enjoy!
---
Esther's Bags Photo Gallery