I hate how busy I've been this semester. I'm preparing a full-length "Cosi fan tutte" for late April. A kids' version of Cosi, with its own abbreviated score, will be presented the morning of that event's opening. I have not yet seen the kids' cuts, but know that I am the orchestra for that production, where I believe I'm only accompanying the recitative (but the entire score for all the rehearsals over the entire semester) for the full evening opera. A 45-minute opera for kids, Billy Goats Gruff, is to be presented today at Stambaugh Auditorium and then five times this week at local schools. And tonight starts tech week for "My Fair Lady" in Sharpsville [PA]. If you're counting, that's two major productions and two hour-long productions. A lot of black dots. And I accompany four voice students who have at least five pieces each in their repertoire, along with two senior recitals to play.
That leaves no time for sewing. And a big hole in my life.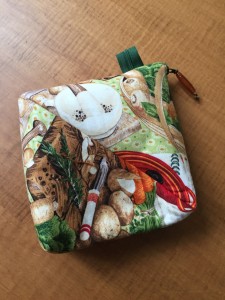 Yesterday morning I was exempted from the MFL rehearsal (big sigh of relief), so I snatched two hours and ran downstairs. Back in October or early November, I saw the pattern for the Bendy Bag from Lazy Girl Designs. It looked cute and quick and easy, and I whipped up several to take along to Thanksgiving in Amarillo to gift to my dinner companions. One friend of my Amarillo family wasn't able to be at dinner that day, but I have been wanting to make another bag to send out to her. So yesterday I dug into my scrap stash and found enough leftovers from Gayle's bag to make a Bendy Bag for Maria.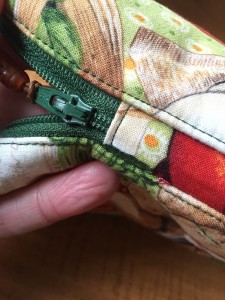 Now that I've made a bunch of these, I'm able to whip through them pretty quickly. There's only one change I've made. At the bottom of the zipper, a tab is attached to extend the length of that piece to the bottom of the bag. But the way it's attached leaves an opening that would allow small items to escape (Imagine a beader toting part of her stash in this cute little bag, or a jeweler with loose stones ….). So instead of edgestitching the folded end of the tab to the end of the zipper, I rotate the tab to place the folded end at the bottom.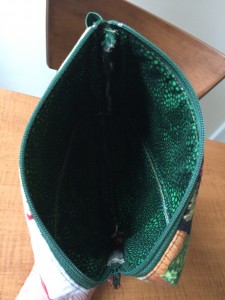 I turn in the raw ends ½" and press, then sandwich the stitching line of the zipper (where the instructions tell you to place the folded end of the tab) and edgestitch to hold it in place. Then I edgestitch down both sides of where the zipper tape is sandwiched and trim the sides of the tab (as instructed). The only difference is that you won't see the zipper for your edgestitching. A quick chalkmark or a deftly placed pin will tell you where to run your edgestitching. And the resulting look on the inside is more elegant, to my way of thinking.
The only other thing I don't love, but am willing to live with, is the zigzag finish on the seams inside. But honestly, not one person to whom I've given these bags has complained. 😉
I carry a Bendy Bag with me at all times in my big music tote. It contains all my chargers for page-turning pedal and iPad Pro and phone. I can imagine lots of uses for it, and know more iterations are in my future.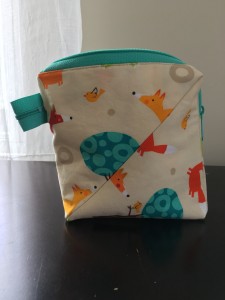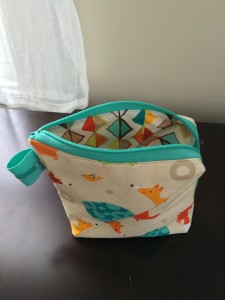 And finally, for your viewing pleasure, a B.B. I made two weeks ago for my granddarling's high school French teacher. She likes foxes. I hope she likes the bag half as much as she is liked as a teacher.
If you're interested in the fox fabric, it's from Robert Kaufman's "Creatures and Critters 3" collection, designed by Amy Schimler.