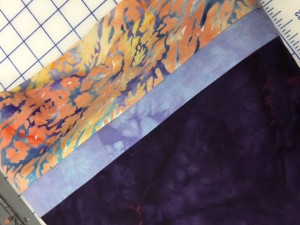 The Jazzman and I have little travel pillows that I got at Bed Bath & Beyond. We like knowing that whatever the hotel (or cruise ship) has to offer, we'll have a pillow along that we know and love. Before we went to Mexico last winter, I bought the 12″ x 16″ pillows and made pillowcases to fit them. They were both a gold cotton sateen. I silkscreened my name on mine; his had nothing to indicate it was his.
And then it disappeared. His pillow and the custom made pillowcase are nowhere to be found. So before we went to Amarillo for Thanksgiving and my son's wedding, I bought him another travel pillow and grabbed an unused 100% cotton (regular size) pillow protector to serve as a pillowcase.
When we packed our pillows for our Christmas trip to see his family in Columbus, he [whined a little] about not having a pillowcase. When we returned home, I asked again if he was just giving me a hard time, or really didn't like the pillow protector. Alas, the pillow protector has a texture to it. It's not soft and silky cotton sateen.
One morning last week my inbox contained my Bloglovin' feed with a tutorial for a pillowcase.
Oh my gosh. This tutorial yields a pillowcase that is everything I look for in something I sew. The inside was as beautiful as the outside.
The typical regular-size pillow is 20″ x 26″. The dimensions of the three sections of the tutorial pillowcase are 25″ x 40½", 2½" x 40½", and 12″ x 40½". Comparing the regular size pillow dimensions to the travel pillow, I cut 15″ x 24½", 2½" x 24½" and 8″ x 24½". The hem could have been 2-6″ longer—remember that the hem will be folded in half during construction, so the length you cut for the hem will be divided by two and then have ½" subtracted for seam allowance. After attaching the trim and the hem, I had a 3½" hem and a 14¼" main panel. The bottom and side seam took another ½". So with a 16″ pillow, I had a couple of inches extending beyond the pillow. (I am more exact measurements downstairs, but am racing to write this so I can finish my packing. You're welcome to leave more exact measurements in the comments.) I used a couple of cotton batiks and a hand-dye from my stash for the case. Honestly, it feels like silk. Or buttah!
Jas loves his new pillowcase. It's distinctive and won't get lost in the hotel (or cruise ship) sheets. And it's comfortable to lay his head on.
I'm so glad I made the time yesterday to get this done before finishing my trip packing.
I highly recommend this tutorial!!