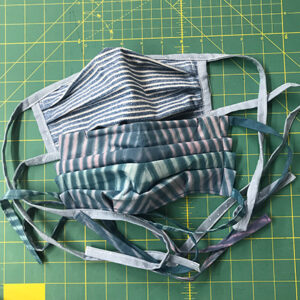 We went into self-isolation on March 16. This time has meant three things to me: 1) Because of the lag time in transmitting sound over the internet when using Zoom or FaceTime or a similar app, I can no longer accompany my "musical theatre kids;" 2) I'm playing a lot of piano anyway, as I started recording a song each day and posting it on Facebook and Instagram; and 3) I'm making a whole lot of masks, because it needs to be done.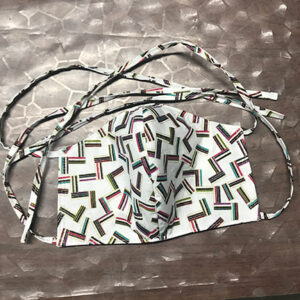 I have not yet gotten to donating masks to hospitals and other healthcare institutions, because friends keep asking me to make masks for them. I've read dozens of mask patterns, as I want to make the best and most protective masks possible, and each pattern is just a little different than the previous one.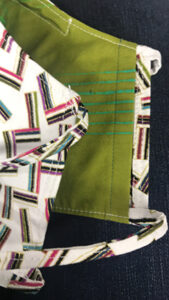 My standard has become three layers of 100% cotton—high quality quilting cottons—plus one layer of non-woven interfacing that has filtering capabilities. I use ties rather than elastic, as I'm hearing from wearers that elastic hurts their ears with extended wearing. And I include a filter pocket, into which wearers can tuck a paper towel or a filter material or a thin (unscented) panty liner to provide more filtering.
The benefit for me is that I'm getting to decrease the size of my fabric stash. I've been inadvertently collecting fabric for twenty years. I never set out to be a fabric hoarder. It just kind of happens. I see a cute print or a pretty fabric and think, "Oh, I can you that in …."
Another technique I've learned, as the next photo shows, is to use a different fabric for the back, preferably a lighter color fabric. This enables the wearer to know which side has been exposed to the public, if they're going to take it off and then put it back on again before washing. Some patterns suggest using flannel for the inside, the side which will touch the face, because of its softness. But many wearers—especially health care providers who might wear the masks for hours at a time—comment that the flannel makes the mask hot with extended wear.
Another benefit? Several of the friends I've made masks for leave a bottle of Chardonnay waiting for me on the front porch when I drop off their masks. Nice exchange.
Sometimes I get tired of making masks. Every day, getting dressed and heading to the basement. I wish for the time to just make what I want to make, a garment or a bag. But then another person asks me if I can make them a mask, and I can't say "no." Many of the people who are asking are immunocompromised, and I feel it's most important for them to have a mask, and to have it as soon as possible. So I keep sewing.
One lady, with whom I became friends when we sang together in the Cleveland Orchestra Chorus, asked if I could make several masks for her husband, who is a physician. They have three small children at home and are so worried about his being able to stay safe during this terrible time. He went right to the top of my whiteboard list. Some people must get priority.
And so it continues. Stores are reopening. People are being encouraged to wear masks. A few states—not enough—are mandating mask-wearing. And I fear it will be months before a vaccine is developed. So I, along with all my thousands of brother and sister mask-makers, keep on keeping on.
Please wear a mask.
Please stay home as much as possible.
Please stay safe.
---