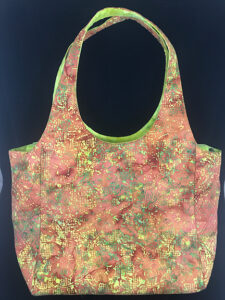 Those hours add up. Pretty soon you're talking about a whole bag! (Photo: the front of the large Clydebank Tote from Sew Sweetness sewing patterns.) Link to Clydebank Tote pattern.
I'm been making mask after mask. But before you envision thousands of masks flying out of my sewing room, let me admit that I make rather complicated masks, and each one takes a couple of hours to make, so I'm lucky to "crank out" three a day! And when people see my pictures of them, they ask me to make them one. Note to self: stop posting mask photos on FB and IG!
So what did I make when I took a break? If you follow my blog, you know I'm a big fan of the bag patterns designed by Sara Lawson under the name Sew Sweetness. Sara is a brilliant and incredibly generous designer. She makes wonderful bags that she sells, but she also makes available some very nice free bag patterns.
Sara hosted a book group a year ago, featuring novels about sewing. One of the books was set in the town of Clydebank in England, and Sara released the Clydebank Tote about the time that book was being reviewed. The bag did not appeal to me at that time. I saw everyone's Clydebank Tote photos, but just felt I didn't need to hop on that bandwagon. Now we're in a pandemic, and people who have never sewn before are hauling their grandma's old machine out of the attic or going to JoAnn's and buying a new machine to make masks for those in need. My friend, Donna, who kills all the dust bunnies in my house, decided she would learn to use her husband's industrial sewing machine and make masks for all the employees at the Sparkle grocery store where a relative works.
During this pandemic time, the moderator of the Sew Sweetness Facebook group decided to start a sew-along for people to make the Clydebank Tote. She knew many people had lost jobs and income, and thought a free pattern would allow everyone who wanted to to participate without having to buy a pattern. We would work together virtually, helping each other out when we got stuck on the bag construction. At about this time, Donna told me she was enjoying sewing so much that she wanted to find something else to sew when she was done with masks. I immediately thought, "Clydebank sew-along!"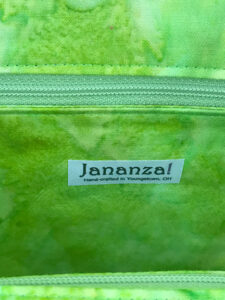 So, even though I hadn't initially been attracted to this bag, I told Donna about it and we both signed up.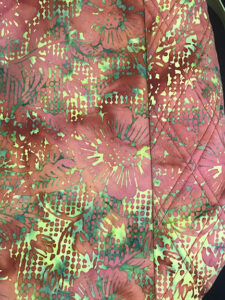 The pattern is designed for you to be able to use a different fabric on the side panels. Many people use the fabulous relatively new cork fabric that is imported from Portugal. Others use leather or vinyl. I had lots of this Bali batik, so decided to just quilt some of the batik to the foam that is used in the construction to make a sturdier tote. I love how that looks. My second bag uses cork for the side panels.
Fast-forward four weeks and I'll confess that I L*O*V*E this bag. I made the large size – actually I'm making two of them. I'm using this bag to move some fabrics out of my stash. I don't know if I'll give it away, offer it in exchange for a donation to the local fod bank, or put it on Etsy to sell. But I certainly have enjoyed making the bag. More photos will follow as I finished the second bag.