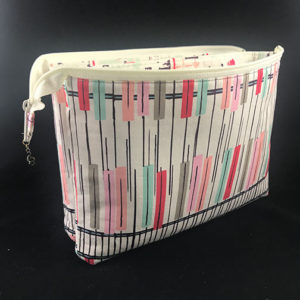 In my posts, "Meet the Paladin" and "A Pineapple for You," you saw a bag I made for one of the leads of the Youngstown State University production of "Cabaret." (Note: The recipient loved the bag. 💜) In the show, an unseen 🌟 is the person who records a song (the Nazi national anthem) to be played from a gramophone at a critical point in the show. The recording is supposed to sound like the voice of a young boy, scratchy like an old 78 RPM recording would be. The director of a local youth stock theatre company recommended one of the young singer/actors who studies with her, a lovely 11-year-old girl with a stunningly clear voice and a great musical ear. I never was able to meet the young singer, but a few weeks after she made the recording for us, I worked with her dad in a local production of "South Pacific," and friended him on Facebook. This afternoon I will drop the bag off at her home on my way to my final holiday performance weekend of the year. 🎉
I wanted a musical print fabric, and chose Art Gallery Fabrics' Hearts Melodies collection, using "The Key of Hue" for the exterior and "Tuner Tumbler Viola" for the lining. At one of my local Michael's stores, I found an antique gold treble clef charm adorned with three tiny rhinestones. Perfect for this star of the show. The pattern is the "Paladin" from "Sew Sweetness."
I have nothing new to say about the construction of this bag that I didn't already say in the other two posts. I will add, however, that this is a tricky bag to make—at least it feels that way to me. There may be other Bag Ladies and Bag Dudes who think it's a piece of cake. However, I have to watch the video a couple of times and proceed very cautiously when I'm at the point of sewing the exteriors and the interiors together. Definitely watch the video. That's the best advice I can give.
But, difficulty aside, this is a great bag. It's worth any cursewords that escape your brain during the sewing process. Just sayin'.
What do I love about this bag? I love that, especially in the large size, the middle pocket is just right to hold most phones. I made sure the pattern pieces that would become that middle pocket both had fusible fleece to protect the phone that might be nestled there. I love that, on first sight, it's just a zippered pouch. It's only upon unzipping and spreading it open (a benefit of the overhanging zipper!) that you realize the zipper hides three pockets. Three! And I love that the medium and large sizes both include an interior zippered pocket. Kudos to Sara Lawson, the owner and designer of Sew Sweetness, for a brilliantly designed pattern.
Bag Photo Gallery