If you're not a musician, you may not understand how frenetic December is for working musicians. Churches, clubs, performing arts organizations—they all want to provide lovely entertainment or worship experiences for their members or patrons. That means we working musicians must learn music, attend rehearsals, and then perform. And when it's all done, we're exhausted. Many of us are totally disinterested in hearing one more note of holiday music. Speaking for myself, I prefer to skip the whole Christmas celebration. I really don't want gifts. I don't want an enormous dinner. My best Christmases have been either ones over which I took a vacation (Hilton Head Island is my idea of heaven!) or days when I had popcorn at the movies for dinner. This year I'll leave home around 3:00 p.m. to drive my granddaughter to the airport an hour away. We'll stay in a hotel, have dinner together, and watch a movie before an early bedtime so she can catch an early flight to spend some time with her girlfriend in a distant city. This may become a new Grandma Time tradition!
Yesterday around 4:30 I played my last paid set of black dots for the year. After my Saturday night performance, I came home and cut out a bag to make for my Spousal Equivalent's sister-in-law. It will become the "gift wrap" for her L.L. Bean Christmas gift card. When I got home after my final performance yesterday, I went to weekly Sunday night Mexican dinner with friends, then came home and sewed up the bag. This is an easy sew! And this is the second time I made it; fortunately, I was able to remember a few little tricks about the bag.
Here's the blog post I wrote about the previous make. Well, to be honest, that post has more to do with the machine than the bag. And about my trip to the Cincinnati area to meet a DNA cousin. ❤️ And, by the way, that Singer sewing machine that is almost the same age as I am now lives with another sewist who lives just a few blocks away and was so happy to adopt it.
And here are the details about this bag. First, how cute is that Yoga Frog fabric, which I found on Etsy. If you want some, open Etsy and search for "yoga frog." And equally cute, how about that frog charm for the zipper pull. Another Etsy find. The seller is beyondfindings. But, really, just search "frog charm." So much cuteness!!
<Sidebar On>
My elder brothers (five and seven years older, never quite sure what to do with the much younger adopted sister) nicknamed me Toad when I was 10 or 12 or whatever. Okay, it was Toadster, then they shortened it to Toad. I thought it was cute until I became an adult. And then I came to a personal realization that maybe it wasn't meant lovingly. Maybe they should have left it at Toadster. That's cuter. And less demeaning. Or insulting. Or whatever. Oh, the angst of teenagerism.
<Sidebar Off>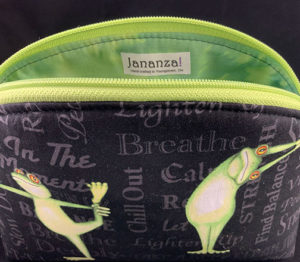 Oh, yes, the details. The fabric is from Robert Kaufman Fabrics and is ID number AJW-11128-184. The real name is "Back in 5 Minutes." But "yoga frog fabric" in Google will bring you a number of results. Hancock Fabrics of Paducah has it, and Bug Fabrics has some in stock. If you're reading this in Hawaii, Kawaii Fabrics has it in stock as of this writing.
The bag is from Sew Sweetness. It's the Bellevue Pouch from Minikins Season One. Don't let the price of that pattern package throw you. There are a lot of Very Good patterns in there, and they're under $7 each, for bags you'll make over and over again.
For me, the only challenge on the Bellevue is turning and topstiching that zipper-on-a-curve. But it's not awful. Just take your time and keep holding those top seam allowances flat.
And do use foam on it. I used ByAnnie's Soft & Stable. I think I used headliner on the first one I made. Using fleece or just Shape Flex (Pellon SF-101) is not going to give you the lovely crispness that the foam gives you. I always use non-fusible foam and baste it all around the pattern piece. The finished result is worth the extra effort.
That's all I've got for you. I'm on break now for three weeks, and I've got a lot of sewing to catch up on! Merry Christmas, Happy Festivus, Happy Hanukkah. Whatever your deal is, I hope it's wonderful and brings you joy. Like the joy looking at these yoga frogs brings me. 😊