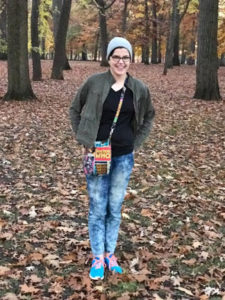 About two years ago I made a Swoon Ramona crossbody bag for my younger grandchild. I don't think they have taken it off except to sleep in all the time since receiving it. With that much use, it's now threadbare. And all the ScotchGard in the world cannot guard against that amount of wear. It's feeeeelthy!!
I begged and begged for my babe to take it off and give it to me so I could wash it. When they refused, I just ordered fabric to make another. Happy grandma, happy teenager.
This is the third Ramona I've made. Number 1 was made for myself, during my 2015 summer working at Interlochen Arts Camp. Number two was the one Cody is carrying in the first picture. Number three was for a close friend of Cody's, who is also a devoted Whovian.
That was blogged here.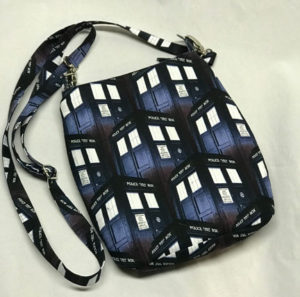 So, on to number four. I forgot about the quilting I did on the base of #3. Wish I had read that again before making this one, but every make is about the learning for me, so that's fine.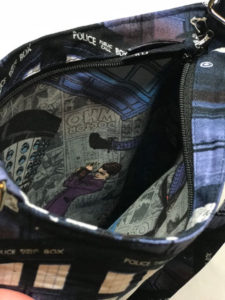 For this bag, I used SF-101 interfacing on the lining and fusible fleece on the exterior. I made the strap connectors wider by folding in thirds rather than fourths. I felt that held the ring better and gave me less bulk to have to sew over. And the adjustable strap was a little shorter than designed. Somebody forgot to think carefully about how she was laying the pattern pieces out and didn't leave enough width at the top of the fabric to cut the two 4″-wide strips.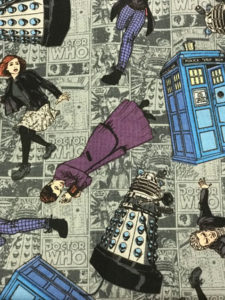 The fabric, purchased online at eQuilter.com, is from the Doctor Who line – the exterior is Infinite Tardis and the lining is Clara's Adventure.
I prewashed the fabric, then sprayed with Mary Ellen's "Best Press" and ironed until it was crisp and oh-so-easy to work with. After I dropped the bag at my babe's house, I texted, "I hope you love it." Here is the response I received: "I do! It's so sturdy (and clean lol)"
There's a teenager who knows the way to Grandma's heart.