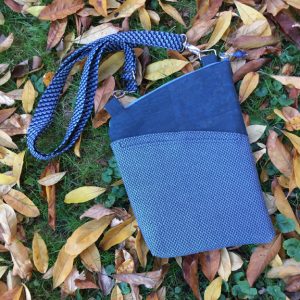 Two days in a row with time for sewing—yea! [Or, as my sons tell me I should say—yay!] Yesterday I finished the Swoon "Ramona" crossbody bag. Today I finished a CloBird Designs "Tulip" bag.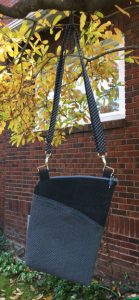 This is my second Tulip and it was made for a special lady. My new sister's granddaughter is a missionary in Kosovo. When I sent my sister a picture of the Tulip I made for myself, she said, "That's just the type of bag that Jennifer has been looking for." So, of course, I immediately started to think about making one for Jen.
I have only met Jen via Skype, but I follow her posts on Facebook and we text occasionally. She gives of herself completely to the people she ministers to in Malisheve, Kosovo. She is always looking for ways to help the single mothers there find ways to bring in some household income with items they have crafted with their own hands. She gives them dignity and hope. I don't know her personally, but I see the photos showing her smiling face and see the love she shares with the women and children she helps.
I don't remember whether I asked Jen or my sister what colors Jen might like for her bag, but I remember hearing navy and brown and conservative colors. I dug through my stash and settled on a blue/navy color scheme.
For the body, I first chose the same navy cotton duck that I used for the Swoon Vivian carry-on bag,
blogged here
. For the contrast fabric that is used for the exterior slip pockets, I chose a silvery blue and navy geometric print that was destashed by a close friend and sent to live with me. For the lining, I gravitated to the Cotton+Steel Butterflies of Blue, designed by Rashida Coleman-Hale. Once I got into the construction of the bag with those three fabric choices, it just wasn't speaking to me. The navy cotton duck was a dull shade and—to my eye—just didn't blend with the other two fabrics.
Digging through my stash, I found the blue with gold fleck cork fabric from Sew Da Kine's Facebook store. I had been looking forward to sewing up this cork fabric, and now that the bag is done, I want to make more cork bags. Like buttah!!!
What did I learn new with this bag and its predecessor? I've never before made a bag with a half-zip installation. Now I understand how some of my RTW bags were made. This is a very cool technique, and I'm so glad I discovered it on this bag. What did I change? I added a little pocket inside to hold business cards or credit cards or driver's license.
What little extra touch did I add? Look at that zipper pull with African trade beads. One of the things I miss about living in Tucson is the treats one can find each year at the Tucson Gem & Mineral Show.
Where did I have trouble? The adjustable strap. I posted on a couple of FB bag groups asking how people did their straps with cork. The answer I got was to just do it like one does the fabric strap—cut 4″ wide and x" long; fold in half lengthwise and press; fold both sides in to the center and press; edgestitch both long sides at ⅛". I did that and was very unhappy with the result. So I picked out all the edgestitching and cut the strap so I had two 1″ wide strips.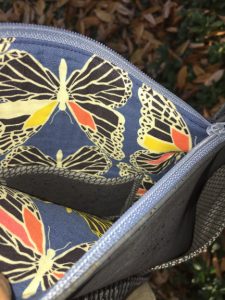 I placed them wrong sides together and edgestitched. I daubed Edge Cote onto the cut edges.
Amazon link for Edge Cote
And again I didn't like it. The stitching and unstitching and restitching left it stretched out and curling. So I dug into my stash and found another vintage fabric in shades of blue that went well with the existing fabric combo. Using the standard technique just described, I ended up with a perfect adjustable strap. Now we're happy.
On Wednesday I'll box it up, go to the post office, fill out customs forms, and send it on its way. I hope Jen loves it.
Would you like to get one of CloBird's patterns? They're available on Craftsy.
As I was preparing this post, I realized that I had never written a blog post about the first Tulip I made. The fabric on #1 was purchased at Interquilten in Interlochen, Michigan. Interquilten is located two miles from my beloved Interlochen Center for the Arts, where my younger son went to camp and high school, where I worked one summer as a collaborative pianist, and where my grandchildren now go in the summer to study art and creative writing. The fabrics reminded me of the Petosky stones in Lake Michigan and Grand Traverse Bay and of the pine needles carpeting all the wooded areas. That part of the world owns my heart.