As I walked into the JCC this morning for my water aerobics class, the sky was overcast and the weather forecast said there was a 90% chance of rain for the balance of the day.
A young mom and dad were getting out of their car next to me and walking their two children into the day care center. The mom was dressed impeccably and wearing a bright red coat.
Wow! Pop!!
We all should have a brightly colored coat to bring us some cheer on gray days.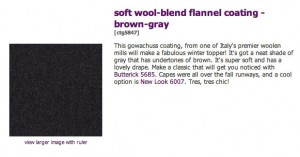 I'm headed into my basement sewing room to begin work on Marcy Tilton's coat, Vogue 8934. It's a charcoal gray wool blend from Gorgeous Fabrics. Here's your sneak peak. No, it's not red. But it's warm. For me, living in Northeast Ohio, warm is a higher priority than bright.
Stay tuned.