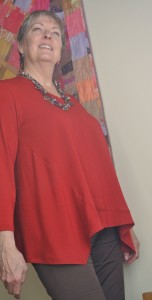 … And some of this incredible poly/rayon/lycra knit from GorgeousFabrics and Katherine Tilton's wonderful Butterick 5925 top. I think I am more in love with this garment than anything else I've made this year.
(You like the picture, don't you? I'm channeling my inner Shams.)
Here's the review: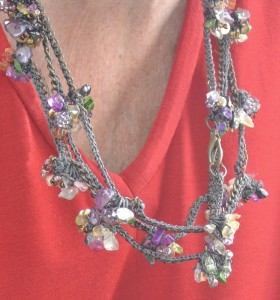 Pattern Description: MISSES' TOP: Pullover top has neckline and pocket variations, seam detail, and shaped hemine. A: slightly draped neck and pocket bands. B: pocket binding. A and B: semi-fitted, stitched hems. C and D: loose-fitting, hem band, and narrow hem. B, C and D: neck binding. Wrong side shows on hemlines, and C and D pocket openings.
Designed for light weight two-way stretch knits.
I made view D without the pockets. I frequently read that v-necks are good on me, but I rarely wear them, so thought I'd try it.
Pattern Sizing: Combinations: Y(XSmall-Small-Medium), ZZ(Large-XLarge-XXLarge)
I normally wear a Large or 14. I cut a Large and it fits perfectly.
Did it look like the photo/drawing on the pattern envelope once you were done sewing with it? Yes.
Were the instructions easy to follow? Yes.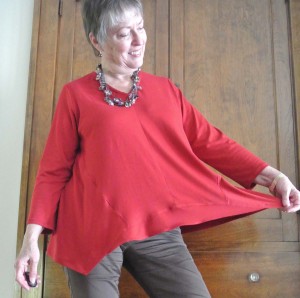 What did you particularly like or dislike about the pattern? The seaming is interesting. The fit is flowy without being overwhelming. It's an absolutely lovely top.
Fabric Used: Poly/rayon/lycra from GorgeousFabrics.com. This link might give you some of them. The color I chose is called "ruby red"; as Ann says in the description, "it's a deep red, almost blood red." I think it would look good on any complexion.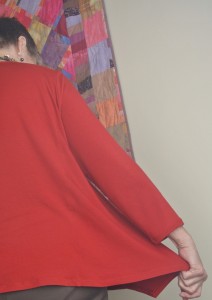 Pattern alterations or any design changes you made: Just a couple of tweaks.
I hand-sewed the finishing of the neckband rather than "stitching in the ditch." I love handwork, and I was having so much fun with this yummy fabric, so decided to give myself the present of quiet time stitching.
I ignored every place in the instructions it said to clip the curve. I never clip when I'm working with a stable knit.
On the bottom front piece which, I guess, is just designed to give it a little more length and is just a design feature, I didn't like that it wasn't hemmed. (I also didn't like that the instructions ignored the issue. I would prefer that instructions tell me to leave the edge raw rather than ignoring it.) I sewed it in place, then realized it was going to roll slightly, so unstitched ¼" on either end, cut a ¼" strip of lightweight knit interfacing and fused it in place, then folded the edge up and topstitched with a single row of stitching. Then I restitched the edges and I love the finished look.
I fused ⅝" strips of the same knit interfacing all the way around the bottom on either side of that front panel and then turned up the bottom. I now do this as a rule with all knits of this weight. It makes my double-needle hems go in so much more smoothly.
I fused a ¾" strip of the knit interfacing on each back shoulder seam before stitching, then pressed the seam to the back and top-stitched. This is a standard practice for Marcy and Katherine Tilton and one I've adopted on all my knits. It gives me a more stable shoulder.
Would you sew it again? Would you recommend it to others? Yes. Yes. A thousand times yes.
Conclusion: You cannot go wrong with either this pattern or this fabric. Go – Buy – Make – Wear – Love!
---
As I said the other day when I blathered on about this fabric
, I threw the top on over black pants on Saturday night to go to dinner without adding the front bottom piece or finishing the hems. That's how much I love it. Today for pictures and to wear to rehearsal in Cleveland tonight, I'm wearing it with
brown pants.
It would go with gray. It would go with ponte or stretch denim or stretch cotton or jeans or …. It just goes, Energizer Bunny style.
The necklace is to love, don't you think? From a darling little shop in Paris of items handcrafted in Lebanon. I think I'll have to visit there again next month. (For my friends who are over there right now, it's at 30, rue de Varenne in the 7th.)
The earrings are these sweet little wire-wrapped black pearls I got on sale a while back at Naturals.
With thanks to Katherine for this fabulous pattern, to Ann for the fabulous fabric, and to Shams for inspiring me to try new things with my camera.
TTFN. Late for rehearsal!