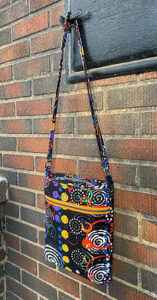 My search continues. If you're a regular reader of my blog, you'll know I'm making tester bags trying to find just the right pattern from which to make three bags from vintage fabric that belongs to my cousin, Diane. This pattern is not It.
After the Sew Da Kine bag, I thought I would turn to designers whose patterns I had used more frequently than Sallie Tomato and Sew Da Kine. So I looked at
byAnnie
, the patterns designed by Annie Unrein. I've made several of her bags, including my very favorite, the Ultimate Travel Bag. Another of my favorites is her
"Take A Stand!"
, which I made up in some Tula Pink fabrics that I love. (While looking at byAnnie's bags, I also considered some Sew Sweetness bags. Sara Lawson, the creativity behind Sew Sweetness, is another favorite designer, but that's another blog post, two days hence.)
Knowing that I wanted some exterior pockets and some straight horizontal seams in the fabric that I showed you in the previous post, I turned to Annie's "Daytripper II" and bought the pattern.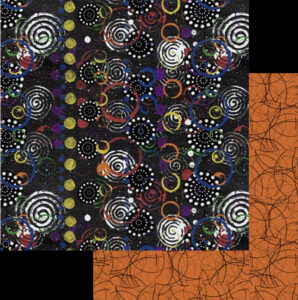 I receive way too many marketing emails from quilt and fabric shops. I had, within the past couple of weeks, received an email from "My Favorite Quilt Store" showing a new fabric collection from a quilt teacher I have long wanted to study with. Her name is Katie Pasquini Masopust, and the collection is called Game Day. The multi-colored print is called "Life", and it also comes on a white ground, which Katie calls "Candyland." The orange print is "Twister." There's a story about the orange, which I thought would go great with the Life print. Unfortunately, when I was shopping this fabric collection, I was on my iPad and didn't have the screen brightness turned all the way up. So I thought this print was more of a rust color, and bought my zipper-by-the-yard in a darker orange. When the fabrics arrived and I saw how bright the orange was, I wasn't sure what to do. After posing the question on one of the sewing FB groups I frequent, I went ahead and used it. But I wish I had gone for a blue coordinate rather than the orange.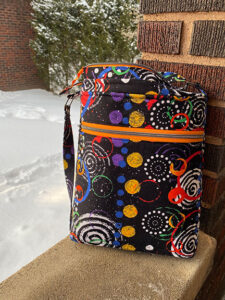 Daytripper was first published in 2015, and both designers and bag sewists have learned a lot about bag construction since then. I was not really pleased with the zipper technique used on this bag. As the bag developed, I loved the exterior fabric more and more, and decided it would become mine when it was finished. I would use it to carry my iPad back and forth to school for all the voice lessons I accompany. However, the iPad is not all I carry. I took it one day, and tucked in my iPad, along with my page turn pedal, iPad charging cord, iPhone charging cord, and Apple Pencil with case. Nope. The bag may be tall, but it's not big. Hence the title of this post. Now what?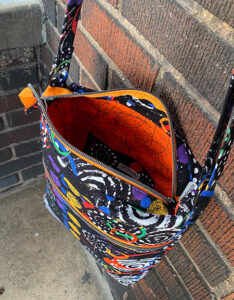 I really struggled with the zipper insertion method on the top of this bag. There is no instructional video to accompany this bag, and the illustrations in the instruction sheet did not make it clear to me exactly how to make this zipper happen. I put it in once, and could barely get my iPad into the case. So I unsewed the zipper, cut a new zipper, and tried it again. I was successful in finishing the bag, thanks to all my bagmaking experience, but I didn't love it.
One thing about byAnnie is she used her specially designed foam, called "Soft and Stable" for many of her bags. Instead of having a separate lining, she sandwiches the lining, the foam, and the exterior fabric, which she has cut larger than the required dimension for the pattern pieces. Then she quilts the three together and cuts to size. The Daytripper doesn't use this technique, but has the exterior and foam layered together and basted around the edge before constructing the bag. This is not obvious on the front of the bag because of the large exterior pocket. But it's very obvious on the back, where the exterior fabric and the foam are loose from each other—very obviously loose.
If I were to make this bag again, which I won't, I would quilt these pieces together and finish the interior with binding.
And now what do I do with this bag? What I know is I'm moving on to a Sew Sweetness bag, which you'll read about next.