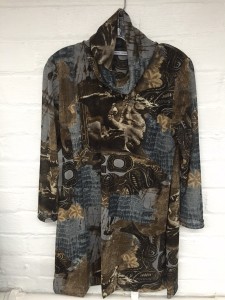 I just wanted to sew today. I just wanted to sew up some fabric—any fabric—that had been resting comfortably in my stash. I have a Caribbean cruise to prepare for, and I had a really cool piece of mesh knit that I thought would be great.
I had read in Marcy Tilton's blog about a double-layer mesh top she made using Vogue 8582. I love this pattern. I've made it several times, and find it very flattering to my body. I thought it would be fun to experiment with this new technique and see how the doubled mesh turned out.
I came, I saw, I conquered the technique, and now the top is going to travel to Amarillo.
I made View C of Vogue 8582 in a fabric I purchased from
MarcyTilton.com
in July of 2014. Marcy called it "Roman Collage Mesh Knit" and I lusted over it for several months before splurging. If you read Marcy's tutorial, I did everything as she said except I used the cowl neck rather than a neck band, so I sewed both shoulders, then inserted the collar, then set in the sleeves. I made two right sides, laying the fabric out with a crosswise fold, where I placed the hemline. I placed marks at the top and bottom of Center Front line and Center Back line and flipped the pattern piece after cutting out one side. This is such an incredibly simple construction method, it really is fun. You have a beautifully constructed inner garment, as the seam allowances are inside the double layer. If you want to get rid of all seam allowances, you could do a Hong Kong finish on the sleeve seam allowance. And this pattern goes together quickly. Cutting to hemming can easily be done in an afternoon. But when I put it on, the fit was just a tiny bit snug. Just enough snug that it will fit Leslie beautifully. And where steel blue isn't my color (I discovered when I looked in the mirror!), it absolutely is her color, bringing out her gorgeous blue eyes.
I would style it with brown leggings and boots, or skinny jeans and Leslie's uniform red cowboy boots. What's not to like?
The up side for me is that I have one less piece of fabric in my stash. Yea!