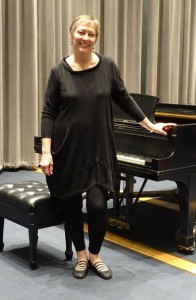 I like to learn. That may explain why I'm always trying new sewing tricks and blogging about them here. I had to accompany some students in their voice studio recital on Sunday. The ladies were to wear long gowns, i.e. it's a dressy event. I wanted to be dressier than I was (black knit pants, black tank, and black knit jacket) for the last performance I accompanied, but I didn't want to wear a gown. I wanted to make something, but was struggling to figure out what.
I have some personal concerns in my life right now, and many nights I lie awake from about 2:00 to 4:00 a.m. worrying about this issue. (I know there's nothing I can do about it, but this grandma worries anyway!) As I lay awake a week-and-a-half ago, I knew what I wanted. I wanted another Butterick 6101, blogged here, only in black with long sleeves. (Look at the pattern illustration.) I love Katherine Tilton's design esthetic, and I find her pieces fit me well and bring many compliments.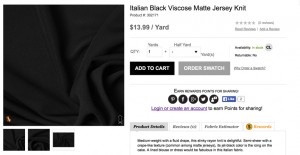 After wearing the previous top I made, I find I don't really understand the little mini pocket on the left side. It's a funky little thing, and for a performance garment, I didn't want funk. I wanted chic. I wanted symmetry. I had a wonderful piece of Italian viscose matte jersey knit. Wow.wow.wow. This fabric is fabulous! It's similar to Exclusively Misook black knit, but lighter in weight. Or Eileen Fisher's knit crepe, but softer. Really, I find myself just sitting and stroking it with my fingertips. It's wonderful!
But, boy, did I have my thinking skills challenged with this set of pattern modifications! Logical thinking skills are important for a modification such as this, and you have to differentiate between looking in the mirror and looking at the pattern envelope. I pride myself on my logical thinking skills, but this project almost did me in!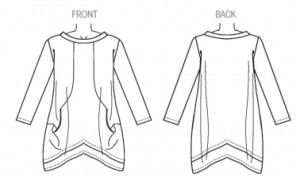 My mistake was not writing down exactly what I was going to do, and checking it twice. This illustration displays my goal. After much head-scratching this week, and after placing an order for and receiving another three yards of jersey from Mood Fabrics, I finally had it.
I cut the right side of the front on the fold. I cut the left side of the back on the fold. Oops. Then I cut the right side of the back on the fold. I didn't have enough fabric (before the second order), so cut the front lower band and seamed it. I wanted the top to be almost dress length, so I cut the lower band 1.5″ longer than the pattern piece. I messed up my first back lower band cut, so recut—on the fold—after receiving the Mood Order.
This piece was not angled so much, so the back hem should be fairly horizontal.
I bound the lower edge of the body in black nylon mesh before top-stitching that layer onto the bottom band. I inserted a half-inch strip in the neckline seam.
Here's the pattern review:
Pattern Description: Loose fitting pullover tunics have collar, left side pocket detail, sleeve variations, hem band and top stitching. C: contrast right front, left front, left front and back pocket, armhole facing, hem band, left pocket and right inside pocket. D:contrast collar, right sleeve, left front, back pocket and right inside pocket.
Designed for lightweight woven and stable knit fabrics.
I made a modification of View C.
Pattern Sizing: Y(XSmall-Small-Medium), ZZ(Large-XLarge-XXLarge) This is my second time with this pattern. Both times I cut a Large.
Did it look like the photo/drawing on the pattern envelope once you were done sewing with it? I made many modifications, but the essence was still there.
Were the instructions easy to follow? Yes.
What did you particularly like or dislike about the pattern?
It has a lovely drape. My only dislike is the mini pocket on the left side.
Fabric Used: To-die-for Italian viscose jersey from Mood. Run, do not walk, to grab some of this incredible jersey.
Pattern alterations or any design changes you made:
I am a professional pianist and wanted another concert black. Wanted it just above the knee to wear with leggings. Loved this top, but didn't love the funky left side, so decided to make it from just the right side. Folded the front and back on the center line and cut the right sides on the fold. After some missteps, didn't have enough fabric to cut the lower bands on the fold, so cut with CF/CB seams. I cut the bottom of the band about 1.5″ longer to get the finished length close to above-knee.
If I had cut the lower back band as I indicated above, I would have had an inverted V hem. I wanted a hem that was fairly straight across, so extended the center back seamline to be fairly even with the side seam. (I left the inverted V for the front bands.)
Instead of turning the bottom of the garment up, I bound the edges in
my favorite soft nylon mesh from Gorgeous Fabrics.
Then I topstitched that edge over the upper seam allowance of the lower bands. I cut a 1-3/4″ strip of the mesh, with the stretch of the fabric, the same length as the collar. Then I seamed it, folded in half lengthwise, and sandwiched between the collar and the neck seam allowance. It just adds a little interest and ties the collar in with the bound edge above the lower bands.
Note that the pattern envelope says "lightweight woven and stable knit fabrics." This jersey has 40-50% stretch — um, not stable. I should have cut it smaller, but the clock was ticking and I was more concerned with how to get my symmetry on. I ended up taking side/sleeve seams about 1-7/8″ wide. I had to keep fiddling with them to get the sleeves just right – tight enough to stay shoved up, but not so tight as to cut my circulation off!
Would you sew it again? Would you recommend it to others? Yes and Yes.
Conclusion: I completely love this pattern and am sure I will make it again. If I use a less stable knit again, I will cut a Medium rather than a Large. I ordered more fabric to make skinny pants/leggings to wear under the top, and it will become a staple for my collaborative pianist duties.
---
Of course there's a funny anecdote to finish this off.
I got up early Sunday morning to do the double-needle topstitching on the skirt hem and sleeve hems. One of my spools of black thread was almost empty, so I decided to do the skirt hem first to see if I could get all the way through on the amount of thread on that hem. (I didn't). Then I raced upstairs to finish practicing before the afternoon recital.
As I was sitting on the front row waiting for the students to file in, I noticed my left sleeve had a strange-looking edge. It didn't have the lovely clean fold that the skirt hem had. I was trying to figure out what was wrong with the fabric when I realized I never sewed the hems on the sleeves!!!! I'm not a gal to leave my edges raw, and I was glad no-one would get close enough to realize what I had done.
And I laughed.