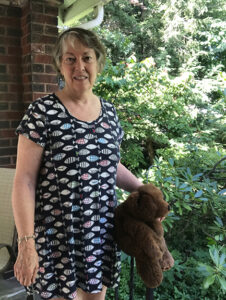 Finally! A break for a few hours in all my mask making to sew something fun, something I've been thinking about sewing for several years.
There are a lot of independent ("indie") pattern designers nowadays, and more popping up each month. There's a t-shirt/dress pattern I've been looking at for several years. It's called the Laundry Day Tee and it comes from Love Notions Sewing Patterns, LLC. Love Notions is Tami Meyer and I am now her newest instant fan.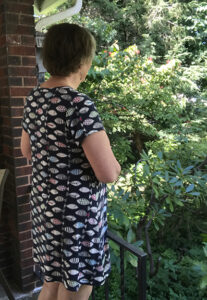 The Laundry Day Tee was first released in 2015 as a t-shirt. It quickly became a favorite pattern for everyone who made it. And they started asking for pattern hacks, which Tami has created for them. The pattern is available in sizes XS to XXXXXL. It also is now available in childs' sizes, and I believe there's a 15-inch-doll size available.
Here's the description from the pattern instructions:
"Why do laundry when you can just whip up one of these cute and flattering tees in less time than it takes to dry a load of clothes. The Laundry Day Tee comes with three neckline options- scoop, v-neck & cowl as well as five sleeve lengths- tank, short, elbow, 3/4 and long. You also get to choose from a regular tee shirt length, tunic or knee length dress. Both the tunic and dress have high/low options. Perfect to wear with jeans and leggings alike!"
All of that, plus there are hacks available to make a maternity dress and to make it nursing-friendly for moms with new babes.
And the pattern instructions tell you how to adjust the bust size, either decreasing or increasing. Right there in the instruction sheet! You don't have to go searching to find the info—It's. Right. There. !!
I'm impressed. I am very impressed.
So what did I change to my standard size Large? It's designed for a 5'5″ frame, and I'm 5'8″, so I added 3″ to the tunic length. That's all. I wish I had started a stopwatch when I started sewing. Let me tell you: this thing goes together in a handful of heartbeats!
It's been so long since I've sewn a knit garment, I had forgotten some of my standard practices and had to search through my blog to find some of these notes. I use a strip of tricot interfacing to reinforce the shoulder seams. I sew the seam and then sew a second row of stitching between ⅛" and ¼" away from the first line of stitching. (I do not use a serger.) For my hems (designed to be 1″ deep), I cut 1″ strips of tricot interfacing and fuse those to the hem allowance on the seam hems and the bottom hem. Then I fold and press those hems and stitch the hems with a double needle and wooly nylon in the bobbin.
That's it. I sewed the short dress, put it on, and took pictures. Done. No fiddling with anything about the pattern to make it fit.
I'm thrilled.
If you haven't yet made a Laundry Day Tee/Dress, what are you waiting on? Really! Just do it!!