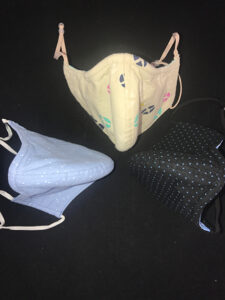 One of my lovely accompanees asked if I could make a couple of masks for her. After showing her the fabric choices, I made three masks. Then I ended the day by making a little pouch so she could store the clean masks safely in her bag or backpack.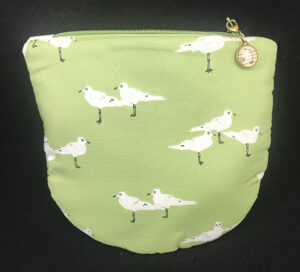 The pouch is from Sew Sweetness—the Hexi Zipper Pouch. This is a free pattern, a quick sew, a multi-purpose pouch. The pattern specifies foam interfacing, but you could just as easily make it with fusible fleece or even just Pellon's Shape-Flex interfacing. I find if a bag has curves, it's harder to make the curves smooth when using foam. Next time I make this pouch, I think I'll use fleece. If you want a slightly larger pouch, print it at 110% or greater and you're good to go!
But what a great little pouch!
Think of the ways you can personalize it:
English Paper Piecing – hexagons, or other patterns you might find.
Machine embroidery – monogram? cute animal motif?
Hand embroidery – a favorite stitch or sampler of stitches.
Use leather, cork, faux leather, denim, a favorite upholstery scrap.
Sew with clear vinyl, with a fabric binding around it to take to concert venues where big bags aren't allowed. Remember live concerts? 😊 You wouldn't line this. If you have the Sew Sweetness Minikins Season 1, look at the I-Spy pouch instructions for ideas.
Use coloring fabric and give the recipient several fabric pens in their favorite colors so they can personalize it themselves. A number of fabric manufacturers are making coloring fabric these days. Go to Etsy .com and search for "coloring fabric."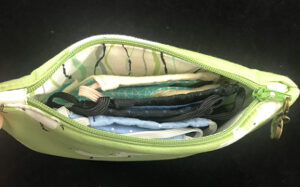 And just look how easily this pouch holds three Zippy masks.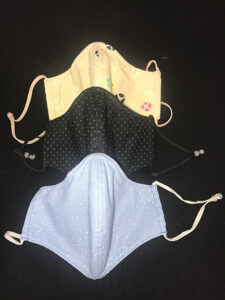 The Zippy mask pattern, from Renée McCloud, has a zip tie in the center front vertical seam. This forces the fabric away from the wearer's face. When inhaling, the fabric is less likely to be pulled into the wearer's mouth or nose.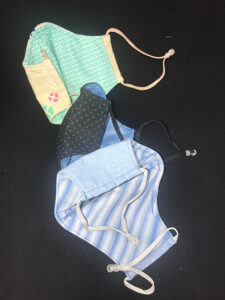 I make these masks with adjustable ear loops and a twisted craft pipe cleaner over the nose. My goal is to have a comfortable mask with as few gaps between the mask and the wearer's face as possible. And I use a coordinating but different print on the inside than the outside. This way, the wearer, after taking the mask off in their safe space (car, home) can put it back on, knowing which is the outside and which is the side to put next to their mouth and nose. No cross-contamination. The inside fabric also creates a filter pocket. The mask is made with three layers of 100% cotton and one layer of non-woven interfacing that acts as a filter. But if the wearer is anxious about the environment in which the mask will be worn—how many contaminants might be in that space—an extra filter or bit of filtering material may be tucked into the filter pocket for extra protection and ease of mind.
I hope I've given you some new ideas today.
Please wear a mask when you go out of your safe space and wash your hands frequently.
Stay safe. Be brave.