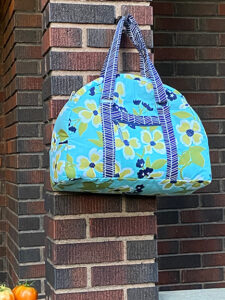 Way back when Craftsy was Craftsy, long before it became Bluprint, then was sold, and now will become Craftsy again with all their databases of classes we've purchased intact, I saw a bag kit that I thought was very pretty. I bought the kit – the beautiful Modern Meadow line from Joel Dewberry with his Dogwood Bloom modern print on an aqua ("Pond") background, lining fabric in the Herringbone print in Pond, and accents from the Herringbone print in navy ("Lake").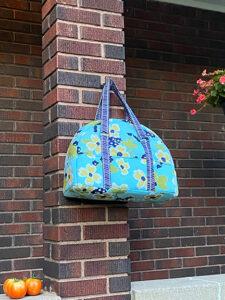 The pattern was the So Sew Easy "Carry All Bag," a free pattern. Because of the Craftsy/Bluprint debacle, I can't even look back and tell you when I purchased this kit, but I'm sure it was more than three years ago. Sometime last year, when I had a break from all my piano work, I started making the bag.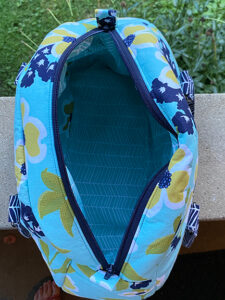 And then the fall semester of insane schedules and the spring semester of Covid-19 took my mind totally off this bag. It sat on the end of my cutting table, nagging me every time I cut out and sewed a mask. The exterior of the bag was finished, and the lining was cut out and interfaced and the pockets were complete, but something was holding me up. Finally, about a month ago I made time in the middle of all the masks to take inventory of all the pieces of Joel Dewberry fabric that were lounging on my cutting table. I determined that I had never cut out the bottom of the lining for the bag, ostensibly because I had run out of Pond Herringbone fabric. I logged on to Etsy and found a vendor who had a yard of the Herringbone and ordered it. And then looked again at all the fabric I had, realizing that even though I didn't have a piece long enough to make the base, I had enough to piece the size I needed for the base. Finally, on Saturday, with my partner away visiting a cousin and kayaking on Lake Erie, I finished the bag lining. This morning I put everything else on hold and sewed the drop-in lining in place.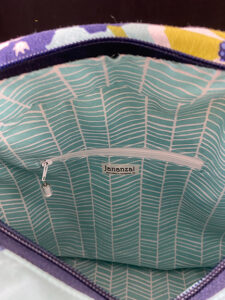 Now, what to do with yet another carry-on sized bag?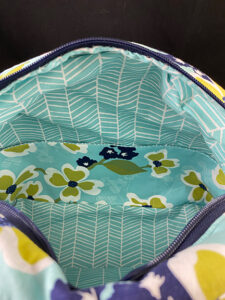 And further, why did I decide to make a free pattern when I've already bought carry-on bag patterns from Swoon and Sew Sweetness and byAnnie—designers that I know and love and trust?! The next time I'm tempted to download a free pattern from an untested [by me] designer, I'm going to write a post that asks you all if I should do it, to which you will quickly reply "No, No, No!!"
Anyway, this bag. It's an okay bag. What didn't I like? I never could get the PDF pattern pieces to print correctly, which caused a few problems. It does not have a shoulder strap. And it's got a drop-in lining. Ugh. I do not like having to sew the lining into the back of the zipper. I'd much rather have to turn the entire bag rightside out through the bottom of a pocket than have to try to get the entire zipper and lining to perfectly match. It never works for me.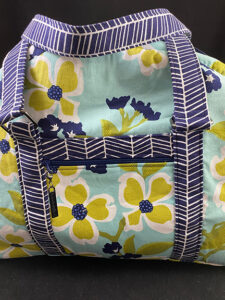 So what do I like?
The fabrics. Those colors and the big bold dogwood print—love! I like the contrast between the floral print and the dark straps. (Note to self—you could have used those Joel Dewberry fabrics to make any of the carry-ons patterns you've already vetted!)
The pockets. On the exterior front there's a zippered pocket. On the exterior sides there are pockets that might hold a water bottle. In the lining back, there's another zippered pocket. In the lining front, there's slip pocket that's made from the dogwood print. It spans the width of the bag and is divided into three separate pockets, one just right for my phone. What a concept—always knowing where my phone is!!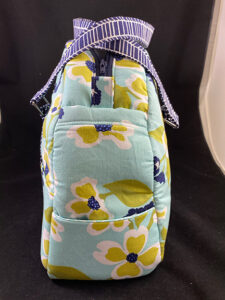 Will I use it? I might. It would be okay to throw a change of clothes, my toiletries, and my iPad and chargers into for a road trip. I wouldn't take it as a carry-on for a flight, because of the lack of shoulder strap. Do I know how to make a shoulder strap and could I have done so? Yes and Yes. But it annoyed me that I had dug this hole for myself. I didn't want to have to take the time to dig through patterns to find the strap pattern and hack this pattern to make the strap happen. I can be very stubborn.
Will I sell it? It's not up to my standards. I'm tempted to figure out what my financial outlay for the fabrics, zippers, and hardware is and sell it for that plus the shipping cost and a donation by the buyer to their local food bank. I would include the disclaimer that it's not perfect, but can be a very useful bag. I don't know.
So that's the story of the So Sew Easy "Carry All Bag." At least it's done and off my sewing table. Tomorrow I can fold up all the leftover fabric and get back to mask making.
There's one less UFO (UnFinished Object) in my UFO box. Yea for that!!!