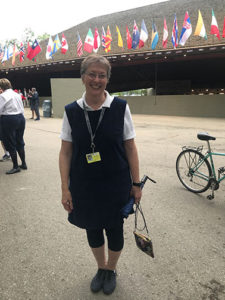 I hate that it's been so long since I posted here about any sewing projects. I don't hate that I didn't post. I hate that I haven't had time so sew any garments. I tried to buy a jumper for camp, but couldn't find any anywhere online or in bricks&mortar stores. And then I saw the Grainline Uniform Tunic pattern and had a great aha moment. Add to that the fact that JoAnn's actually had the perfect fabric for this jumper. The cotton/spandex blend navy pinwale corduroy had just the right amount of stretch to make a jumper that I could be comfortable sitting on a piano bench for an hour or more at a time. #win!!!
I was leaving home early on Thursday, 6/20, to drive to Interlochen. I had houseguests two nights the previous week and had worked playing the piano for six days the previous week. And our kitchen reno had just been completed and we were trying to frantically get everything put back in place before our houseguests arrived.That all adds up to no time to sew. Oh, and there had been a leak in the return water pipe that put rusty water all over the floor of my sewing room, so fabric and supplies were strewn all over the basement. And my machine had been misbehaving on the last four bags I made, so I had no confidence it was going to behave for this jumper. BUT IT DID!!! And now I'm at camp wearing my wonderful new jumper. When my daughter-in-law, who choreographs for junior musical theatre at Interlochen each summer, saw the jumper last night, she immediately said, "I want one of those." Of course she does. It's a wonderful jumper.
Here's the review:
Pattern Description:
From the pattern webpage: The Uniform Tunic is designed as a choose your own adventure sewing pattern. While we have provided four options for you, the possibilities are endless as all of the design features are mix and match! Choose your favorite neckline and skirt, decide between sleeves or sleeveless, add pockets — you can't go wrong!
Pattern Sizing: 0-18, bust size 32-44. I cut a 16.
Did it look like the photo/drawing on the pattern envelope once you were done sewing with it? Yes.
Were the instructions easy to follow? Very easy.
What did you particularly like or dislike about the pattern? Disliked only that I didn't have enough time in my schedule to make another one before camp started. LOVE.LOVE.LOVE this pattern and will be making it over and over again.
Fabric Used: From JoAnn's (shocker for me): A really nice cotton/spandex pinwale corduroy. In navy blue, of course, for my job as a collaborative pianist at Interlochen Arts Camp.
Pattern alterations or any design changes you made: Added 5.5″ to the length. I'm 5'8″ and needed it to be knee length – well, sorta. I actually love the length it ended up at, and I wear it with cropped leggings and ABSOLUTELY LOVE IT. (With leggings, my knees don't show. The Uniform Police will leave me alone.)
I only put one pocket in because I got kinda scared off when reading the pocket construction instructions in the Madder book. I used a scrap of Guatemalan ikat I got three years ago at Common Threads, Uncommon Fabrics in Taos. Both front and back of the pocket are ikat which gives it enough substance to hold my phone without distorting the line of the skirt. Next time I'll insert both pockets and will again use a substantial fabric like this ikat.
Would you sew it again? Would you recommend it to others? Yes, yes, yes. I love this jumper – oh, did I mention that?
Conclusion: A great pattern for creatives of all sewing skill levels. There are neckline options and sleeve options and length options. Whatever your uniform or tunic needs, this is One Great Pattern!!!