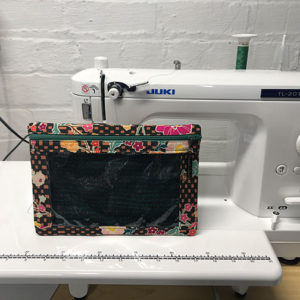 I've been having sewing machine problems for about a year now. The most frustrating thing in a sewist's life is walking into your sewing room with a hankering to sew. You sit down, put the pedal to the metal, and nothing good happens. Argh! I took my main machine in to the dealer and she just said, "User error." I call bullsh*t on her. I've been sewing since I was 13 years old. I know what I'm doing, and this machine had a problem. (It's known in the jargon as "birds' nests." My Spousal Equivalent even knows the term now, after all my complaining over the past year. When I came up to show him this first make on the new machine, he was almost asleep, but he looked at me and asked, "No birds nests?")
From late-June into early-July, I worked at Interlochen Arts Camp in Northern Michigan to accompany dance classes for three weeks and took no sewing machines with me. It was a good break for me—a break from the sewing insanity, the disruption of my passion. When I got back, a small fabric store in Worthington, Ohio, was having a sale on the sewing machines they stock, and I was able to order the machine I had my eye on for 15% off. I placed the order, then started looking around for items I could sell to raise the money for the machine. I had a bunch of antique jewelry and silverware and several pocket watches that had been unintentionally passed down from my birthmother (here's that story) that I'd been needing to take action on. I took it to a local gold and silver buyer, and when I walked out, I had a sizeable check to be able to split with my half-sister and pay for almost half the machine with my portion. I grabbed a couple of gigs off the Facebook "Pianists of Northeast Ohio" group, and posted fourteen old presser feet from a machine I no longer own. And now, two weeks later, I only owe $300 on the new machine, and I've already learned how to use it and have made my first bag. Happy, happy.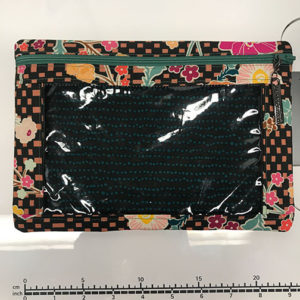 All the accessories for the machine (presser feet, bobbins, oil, and so on) came in a plastic ziploc bag. Of course that wasn't good enough for this sewist. So I decided my first make on this machine would be a special bag to hold those goodies. Sew Sweetness designer, Sara Lawson, makes the best bag patterns I've found, so I opened her website. What I chose was the I-Spy Pouch. This pattern, which includes directions for three sizes, is part of the Minikins Season One collection of small easy-sew, minimal-hardware bags. I had recently fallen in love with the fabrics in the "Legendary" collection designed by Pat Bravo for Art Gallery Fabrics. I had seen one of these fabrics in a bag my cousin, with whom I share a love of sewing, had posted in the Sew Sweetness Facebook group. It caught my eye, and I had ordered a bundle of fat quarters from this collection from an Etsy vendor. I sorted through that collection while standing next to my zipper stash to find a nice match.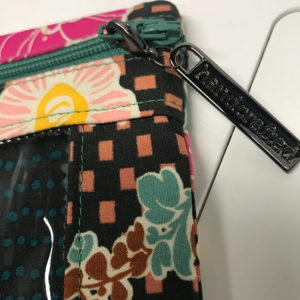 The I-Spy Pouch has a clear vinyl window in the front so you can see what's inside the bag. I always keep the bags in which sheets and mattress pads and other similar household goods are packed when purchased. I grabbed a small one and took it apart. It had just the right amount of vinyl for this medium-sized bag. I laid the vinyl on the ironing board, turned the iron on to the nylon setting, laid a Teflon pressing sheet over the vinyl, and proceeded to carefully remove the wrinkles in the vinyl. Thumbs up! Then I took it to my cutting table and cut the size I needed. I cut all the fabric and interfacing, fused the interfacing to the fabric, and set out on the inaugural journey.
I turned on a movie in my little sewing room television, and when the movie was over, my bag was finished. I proudly showed it to my granddaughter and her girlfriend, who are staying with me for a couple of weeks, and then ran upstairs to show my S.E. Thumbs up all the way around!!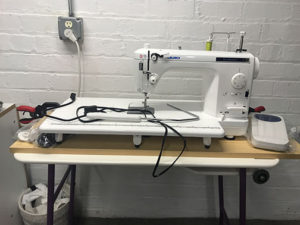 So what do I think of my machine? I absolutely love it. It sews through the multiple layers of fabric and interfacing as if it were butter. My sense after completing my first bag with this machine is that I absolutely made the right move in purchasing it.
The one thing I didn't say about the Juki TL 2010q is that it's a straight stitch machine. There's no zigzag feature. There are no multiple stitches from which to choose. It can't make buttonholes or sew on buttons. It a semi-industrial machine that does one thing and does it well. It sews many layers of fabric together with a straight stitch.
Smart choice, Crewser!