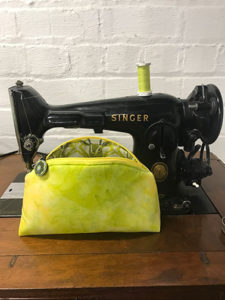 My last blog post—the last item I made—was on March 12. That's about two and a half months! I got sick of looking at that same old post, so, amid the kitchen reno and the water leak in the basement sewing room that had rusty water running across the floor to the drain, and the tearing apart and putting back together of the guest room with its now-refinished hardwood floor, I finally found a couple of half-hour sewing segments.
I've been having bobbin birdsnest problems with my Bernina 330 (accompanied by a trip to the dealer/technician and a diagnosis of user-error – which I don't buy), so I thought I'd abandon it for a while and see how it felt about things. I moved over to the Singer 201 I bought at an estate sale and had tuned up a couple of years ago to see how I felt about it being my new primary bag-making machine.
Well, I was successful, so to speak. I finished the bag. And the Singer does sew very smoothly. But it doesn't have the computerized "oomph" to move the needle through the thick layers that bag-making necessitates. I have to move my hand up to the wheel and encourage it to move forward. To lock a stitch, I have to move my hand up to the stitch-length lever and push it up to go back, then push it down to go forward. And the numbers beside the stitch-length lever, indicating the number of stitches per inch, are no longer visible on this ~68-year-old machine. I have to turn on my phone light and hold it up to the machine to see the numbers that were incised there. So this machine is not going to become my primary bag-making tool. I've got to think about this problem some more.
The materials for this bag are a hand-dye cotton from my stash (not my dyeing—bought years ago either online or at my favorite quilt shop in Tucson), a fat quarter of Cotton + Steel from early in their existence, and a zipper and zipper pull from ZipIt zippers on Etsy.
Now back to reassembling my beautiful new kitchen. 😊
Update: On May 29 and 30, I drove my new Acura RDX to Newport, Kentucky, across the river from Cincinnati, to meet some DNA cousins on my unknown-birthfather's side, including my—at that time—closest cousin, 91-year-old Bette. Her daughter, Beth, graciously included me in the cousin get-together. I had wanted to make enough cute little zippered bags to be able to give one to each woman in attendance. Alas. My machine problems made that impossible. So this pretty Bellevue went along and now lives with Beth, thanking her for her kindness to me.
I'm heading to Interlochen next week for three weeks of accompanying dance classes. I'll think about this machine problem tomorrow later. Lah di dah.