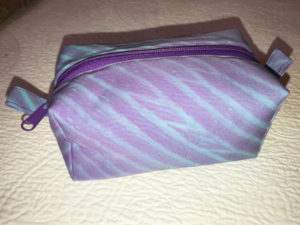 What to do when you realize you have all the necessary Christmas gifts for the family gathering except for one—your [virtual] sister-in-law? You dig into your treasured shibori stash, find a tutorial you like, and whip up that one last gift.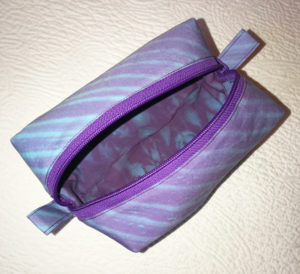 The treasured shibori fabric was destashed by my friend, quilter MaryLou Alexander. MaryLou's quilts all begin with high quality undyed fabric, which she scrunches and folds and stitches and dyes with either MX dyes or natural dyes, before cutting and piecing and machine quilting. (She's currently in her natural dye period. Everything in my treasured stash comes from the MX time period.) And she ends up with incredible works of art that are exhibited around the world and on all our friends' walls.
The tutorial I like is from Leslie Rutland's "DIY Zippered Box Pouch Tutorial" on her "The Seasoned Homemaker" blog. This is a sweet little bag with lots of uses. The finished dimensions are 7″ W x 4″ D x 3″ H.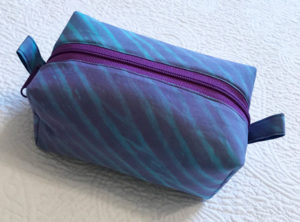 Adjusting the beginning measurements will give you a larger or smaller bag. I think my next make of this pattern will be a larger bag, similar to my guy's Dopp kit.
It's an easy, quick make. I highly recommend.
Who has too many bags? Not I!!