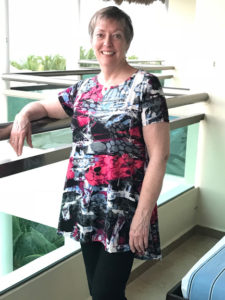 Our flight to Mexico was scheduled to leave early on the morning of January 2; we would drive to Cleveland on the afternoon of New Year's Day to stay in a hotel near the airport. I had packed on New Year's Eve.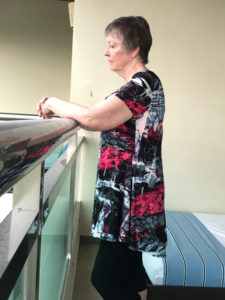 That meant I had the entire morning of New Year's Day to sew one more top for Playa Maroma.
I dug into the stash and grabbed a poly knit I had picked up several years ago at Fabrix in San Francisco. It was not a "me" print, although I'm not sure the real "me" print exists. I'm ambivalent with prints. But it would easily slip on over a pair of black leggings and take me to one of the restaurants at the resort.
I had been wanting to make Butterick 5954 for myself for years. I had made it four years ago in a luscious purple velvet print for my younger grandchild. The pattern had sat in plain view ever since then, and everytime I got in the mood to make a new top for myself, I'd eye it and ask, "Now?"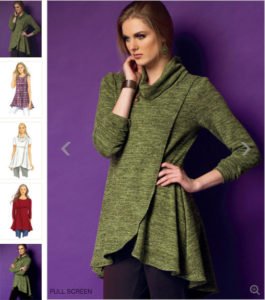 And "now" finally arrived.
Here's my review:
Pattern Description: MISSES TUNIC: Close-fitting and flared, pullover tunic has front variations, shaped hemline and narrow hem. Wrong side shows on back hemline. C and D: collar.
Designed for lightweight Two-way Stretch Knits. I chose View A, with the short sleeves from View C. I'm normally not a short-sleeve gal, but I loved these sleeves and will use them again.
Pattern Sizing: Combinations: Y(XSmall-Small-Medium), ZZ(Large-XLarge-XXLarge) After adding 2″ to the length of the front and back, I cut a Large.
Did it look like the photo/drawing on the pattern envelope once you were done sewing with it? Y
Were the instructions easy to follow? I hardly used them.
What did you particularly like or dislike about the pattern? Liked everything. Disliked nothing!
Fabric Used: Some random poly print from Fabrix in San Francisco.
Pattern alterations or any design changes you made: I always add 2″ to the length on Butterick patterns. I'm 5'8″ and have a long torso.
As I haven't blogged a top like this in a while, I'll remind you that I always use a tricot interfacing cut the depth of the hems. Fuse it to the fabric edge, then fold and press for a clean hemline. Sew the side and underarm seams, then double-needle stitch the hems with wooly nylon in the bobbin. Love this method, that I learned from Marcy Tilton. No sloppy hems in my closet!! ☺ And I always interface the back shoulder seam allowance with a ½" or ⅝" strip of tricot interfacing to stabilize that seam.
See Liz's comment and my response below. I couldn't make the hyperlinks work in the comment, so here are resources for fusible tricot interfacing:
Pam Erny's shop (Just noticed Pam's site says the tricot will be restocked mid-February 2018.)
Pam's blog
NY Fashion Center Fabrics
Would you sew it again? Would you recommend it to others? Yes and Yes.
Conclusion: Need a quick and easy make? This is it!!!