Today was a snow day and in my neighborhood, the snowplows come around infrequently. I had a "Music at Noon" performance scheduled with a Dana School of Music musical theatre student, but morning classes were cancelled, and the head of the musical theatre department wisely cancelled the Music at Noon performance. I was supposed to go to an activity with my granddaughter, but knew with the six or so inches of snow we got last night and the dearth of snowplows, I'd never get out of my neighborhood. So snow day = sew day.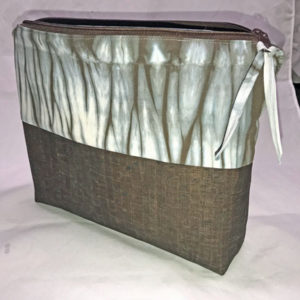 Have you seen the cork fabric that's become available over the past eighteen months or so? I really love the feel and the look of it. The bulk of the world's cork forest is in Portugal and Spain, and I believe the fabric I'm able to get my hands on is from Portugal. Sewing with cork is really no different than sewing with leather and not as expensive. But it is more expensive than fabric, so treat it carefully. If you're thinking about experimenting with cork, read this blog post first. Or google "sewing with cork fabric." There are lots of hints and tips out in the sewing world.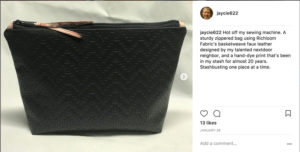 I've made one or two small cork bags before, but I wanted to experiment some more, so I did another modification of the "My Favorite Zipper Pouch" that I've made a dozen or so of already. In fact, the most recent one only got shared to Instagram and never made it to the blog. That was made of a faux leather designed by my talented next-door neighbor. A good-sized piece was gifted in my direction, and after the success of that bag, you can bet that more will follow.
My goal with that bag was to be able to fit a spiral-bound notebook inside. I cut the pieces 10″ tall x 13″ wide. But I forgot to take into account that the bottom is boxed with a 3½" seam, so it was not nearly tall enough for a notebook.
Today's effort was cut 11″ tall x 14″ wide, with only 1¼" square cut out of each bottom corner, rather than 1½". I fully expected to have a 2″ depth to the box bottom. Alas, the finished depth is in excess of 2½". The finished size is about 9½" tall, 11″ wide, and 2½-3″ deep. Maybe I can put a 5″x8″ spiral notebook in this, but an 8½"x11″ notebook is not going to fit. If I analyze the math on this bag and the previous one, maybe I can figure out how to translate the flat cut proportions into the finished bag size.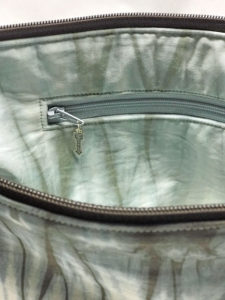 Another thing I did with this bag was to add an inside zippered pocket. And trying to stretch my brain, I thought I could do it from memory, as I've made so many bags with zippered pockets like this. After screwing it up and unsewing several times, I dug through my pattern drawer and looked at the directions on the Swoon Patterns "Ethel Tote." (a free pattern!) That zippered pocket was much easier than I was trying to make mine, and in 45 minutes or so, the pocket was complete and I was ready to finish the bag.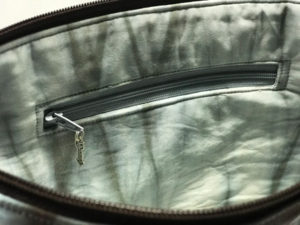 The other lesson I learned is that a 5½"-6″ opening is insufficient for one's hand to be able to dig around in the depths of a pocket for some desired little doodad. Next time I'll make the opening 7″.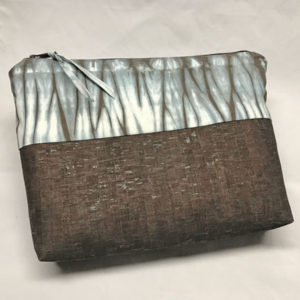 For the first time in making these bags, I pieced the front. My goal was to marry the cork fabric with some of my friend MaryLou's shibori scraps she gifted to me. The cork was cut 6½" tall, with top and bottom ¼" seam allowances. The shibori, then was cut 5½" tall. The zipper takes a ¼" seam allowance; the join between the two fabrics takes ¼" on each piece; and the bottom seam takes off ¼" from the front and back pieces. The lining to the bag is all MaryLou's hand-dyed fabric, in a little lighter colorway. I'm so lucky to have such talented and creative friends!
So there you have it. Do I know what I'm going to do with this bag? Will I use it myself, or offer it to one of MaryLou's and my mutual friends—her fabric and my sewing. I don't know. But I learned a lot making it, and that makes me happy.
So that's my snow day. I didn't push myself on this project. I just had a leisurely day, watched a couple of movies while plodding along, thinking and doing and learning. I can't ask for a better day than that!
And the hot fudge topping on this icy day? When the Jazzman got home from his 12-hour workday, spent outdoors in weather that didn't exceed 24°, he fired up the snow blower and took care of the driveway and the sidewalks. I feel guilty when I don't get out and do it myself, but the gas fumes give me migraines, so he indulges me and freezes some more so I don't get sick.
It's now 10:00 p.m. As I'm typing the final paragraph, the weather app tells me it's 16° and feels like 8°. The snow is starting again, and it looks like we may get another inch tonight.
You think maybe I'll get another snow day tomorrow?