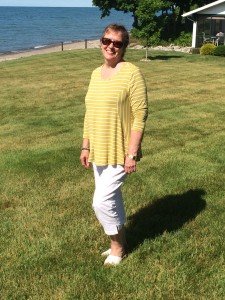 I have pulled Katherine Tilton's Vogue 8710 out of my stash several times and contemplated making it, but it always lost out to a repeat of something I'd already done. Then last week I ordered a bamboo rayon/spandex stripe from Hart's Fabric and decided I wanted to try the horizontal vs. vertical stripe scheme. Once I prewashed the fabric and felt how soft it was, I couldn't wait to cut into it, hoping to finish the top to wear to a Saturday multi-birthday party at some friends' cottage on the shores of Lake Erie.
I love this top and want more of them!
Here's the review:
Pattern Description: Semi-fitted, pullover tops have topstitching details. I made View B: forward shoulder, top mostly cut on crosswise grain, bound neck edge, long sleeves, stitched hems.
Pattern Sizing: Y(XS-S-M), ZZ(L-XL-XXL) I cut L, which tends to work for me on most Katherine Tilton designs. I'm thinking I might have had to go up a size – or this would have been a snug-fitting top – if I had done the front and back vertical instead of horizontal. As it is, I love the fit. Just love it. Did I say I love it?! 🙂
Did it look like the photo/drawing on the pattern envelope once you were done sewing with it? Yes, except for the horizontal/vertical switchup.
Were the instructions easy to follow? Y. On the side front, I pressed to the side and topstitched 1/4″ from the seam. On the side and armhole seams, I did double-stitched seams. I interfaced the hems with tricot fusible and used a double needle.
What did you particularly like or dislike about the pattern? I loved the flair in the "skirt" – although I added to the flair with my drafting when adding the 2″ to the length.
Fabric Used: Bamboo rayon/spandex knit – like buttah! – from Hart's Fabric.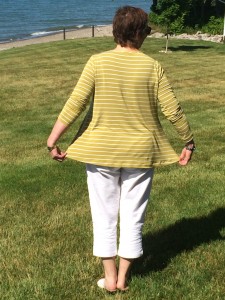 Pattern alterations or any design changes you made: I'm 5'8″ and find I always need to add a couple of inches to Katherine Tilton's tops. Because of the shaping in the front and side front, I ended up tracing from the large at the "lengthen here" lines out to the XXL at the hem. Because of this, I got a fuller, more twirly top that is great over skinny pants. The combination of this soft, supple fabric and the fuller hem is a dream!
As I was cutting – in a hurry and not referencing the pattern – I cut the stripes the opposite of how Katherine envisioned them. My front, back and sleeves are crosswise stripes. Only the side fronts are lengthwise. I think I like this better than the pattern illustration. (I'm also very proud of how my stripes matched. (Patting self on back.))
Would you sew it again? Would you recommend it to others? Yes and yes!
Conclusion: I made this to wear to a group birthday party for which I was one of the honorees. What a great birthday present to myself!