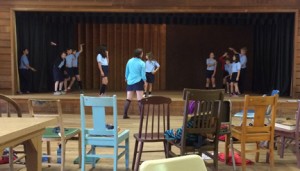 When it's a great, beautifully constructed, Katherine Tilton Vogue top. My friend, Leslie, teaches at Interlochen Arts Camp during her summer breaks from the university where she chairs the dance department. My son, grandkids, and I drove up to Interlochen earlier this summer to visit her.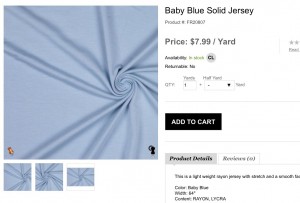 Now, anyone who has attended or visited Interlochen over the years knows there's a camp uniform. Light blue shirts and dark blue pants or shorts (or, much mocked through time, knickers for the girls). When I observed one of Leslie's musical theatre classes the first day we were there, I was horrified. No one who loves Interlochen as much as she does (she not only attended National Music Camp, but she graduated from Interlochen Arts Academy and now teaches at the camp every summer), should be wearing anything under than the pale blue that is standard. But Leslie, ever the non-conformist, was wearing a turquoise top over her navy skirt. Say it isn't so (cries the ultimate rule-follower)!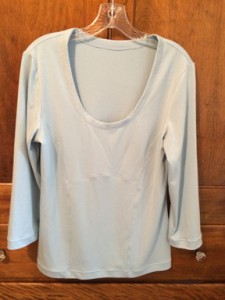 I've been sewing some for her lately. She received three tops and a mesh bag in which to pack all her electronic gadget adapters and chargers for her early summer teaching assignment in Turkey.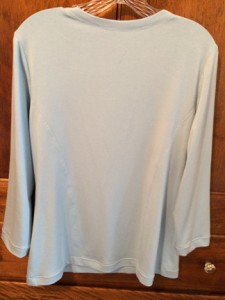 When I visited her in June, I wore my very favorite of Katherine Tilton's Vogue 8817, View A. Looking closely at it, she quickly stated she wanted one of her own. She tried mine on and—as expected, it was too large. I've found that if I cut things a size smaller but keep the length adjustments I've made, they fit her perfectly.
I found a lovely and oh-so-soft Interlochen blue (why don't they just name it that?!) rayon jersey that, I believe, will be very comfortable in the Northern Michigan summers that are alternately hot and humid or cool and lovely.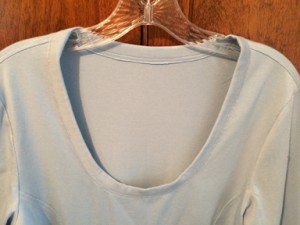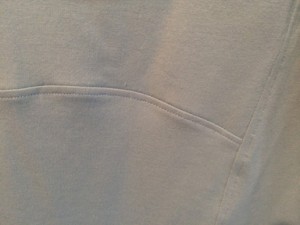 This top was a dream to sew. The stars aligned and it went together perfectly. I didn't pick up the seam ripper once. Just performed each little task in order and admire the ultimate outcome.
Disclaimer: The color is true in Mood's screencap, and very dull in my latenight iPhone pics. And this shirt is much prettier on the body than on the hanger!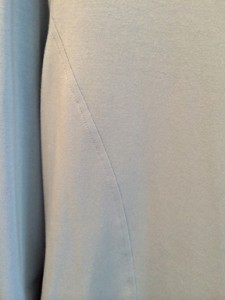 The five individual garment photos: (L-R, Top-Bottom) Full front view; full back view; that beautiful neckline; flattering underbust seam; side front seam. (Patting self on back for excellent workwomanship!)
Leslie is always good about sending me selfies in her new garments that I create. I'll add it here when I receive it, so stay tuned.
(And if you're curious about the other garments I've made from this pattern, here are all the blog posts.)