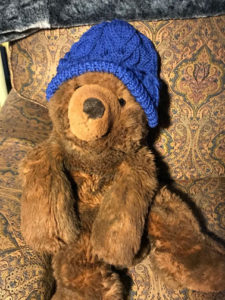 When we were in Mount Gilead, Ohio, at the Jazzman's eldest brother's home for Thanksgiving, I was working on my Rainfall scarf. Riley, Jas's great-nephew, was watching me knit, and—sweet, sweet child that he is—asked if I could knit something for him. I said yes, and asked what he might want me to knit. Jas's niece and her family live in the Minneapolis/St. Paul area, so of course Riley suggested a hat. I told him I had never knit a hat before, but I thought I could do it. I asked what color he wanted, and he quickly replied "blue." When pressed for the shade of blue, he said "bright blue."
I told him knitting takes a long time, so it wouldn't be very soon. But I finished it on Friday night two days ago, and will send it in time for his eighth birthday on January 6.
I chose the Antler Toque pattern from Tin Can Knits. It's a free pattern on Craftsy. The sizing is Baby, Child, Adult Small, and Adult Large, for 16″/18″/21″/23″ heads. I chose the Child size and am very hopeful it will fit Riley and his full head of gorgeous naturally curly hair. If not, I'll make the next size. It was that easy and enjoyable a project.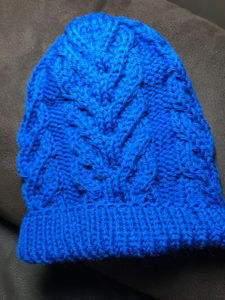 I chose Cascade Yarns 220 100% wool, worsted weight yarn in color "Blue Velvet." (As in, "She wore blue vel-vet, blu-er than vel-vet were her eyes …." Showing my age here.) The child size only requires one hank of yarn. I treated myself to new size 6 and size 8 circular needles and a new set of 8 double-point needles. After all, this was a very special client.
And before I knew it, I was done. I love the hat pattern, and I love the finished product. Here's hoping our precious Riley will love it, too.
EDIT: The day after the hat arrived in Minnesota, I received a text and photo from Riley's mama. She said he loves the hat and that it fits perfectly. Yippee!
P.S. And now I have to come up with a pink and purple scarf for four-year-old Finnley. When she heard Riley request a blue hat, she piped right up with her request for a pink and purple scarf. I told her it would take weeks and weeks and weeks. It may take me that long to find a pattern I like for a scarf for this sweetie baby girl.