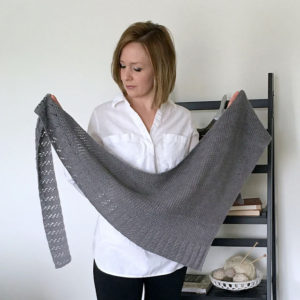 I always like to have something to do with my hands while we're driving long distances. We planned a September vacation to Maine and Massachusetts, so I picked up a knitting kit from my favorite LYS, Three Sheep Gallery and Workshop on Market Street in Youngstown. The pattern was Margaret Craig's Heidi & Lana Rainfall shawl/scarf. I started the pattern a few days before we left, and finished it a few days after Thanksgiving.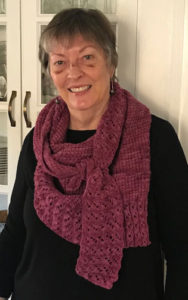 The "and Beyond" to the title of this post is how long it took me to finish this scarf. The lace border is roughly 300 stitches wide, and there are 30 rows to that section. Do the math, People. And that was only the lace border. There were 236 rows to the body of the scarf, beginning with a 6-stitch cast-on and ending at 181 stitches, increasing one stitch every row. So that's a whole lotta stitches.
I love the squishy feel of the [YO, K2, pass YO over K2] stitch pattern. I love the "Homemade Jam" color of the deftly hand-dyed yarn. And I especially love all the compliments I get each time I wear this scarf.
This closeup picture shows you both the lace border and the squishy YO pattern, as well as the true color. Designer Margaret Craig is one smart knitter and dyer. The yarn is Heidi & Lana's 100% Merino Homestead Fingering hand-dyed yarn. The pattern requires two 100g/420 yard skeins. The pattern comes free with the kit.
I recommend this pattern and this yarn. If you want a project that will take you through the long winter evenings, this is a good choice. (I mean the winter will be long, not necessarily the evenings!)
You can call Three Sheep gallery and ask Linda if she has any more kits, or check Etsy. I saw a couple featured there.
As for my scary face in the pictures, I took a bad fall on the 3rd of December. I had a fight with our city garbage can as I was rolling it back up from the curb. The can won, and I'm lucky I didn't lose my two upper front teeth or break my nose or any body part that enables me to play the piano. Today—just short of three weeks from the fall—is the first day the bruises have not been visible without my pointing them out to onlookers. The effects of the fall could have been so much worse, and I'm grateful I've been able to get through this heavy music season easily.