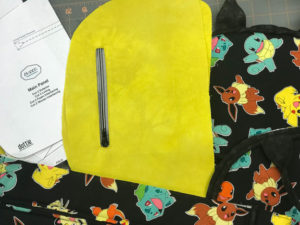 YSU's winter break was four weeks, which gave me plenty of time to both practice and sew. Yea!
The first picture shows how the individual components look before a bag is actually constructed. The side panels are interfaced. The lining side panel has the zippered pocket installed with a mega*cool black and white striped zipper. (And note that the company I bought the zipper from a couple of years ago no longer stocks them. Did you hear that little sob?)
I've been working my way through Sew Sweetness's Minikins and Minikins 2 sets. And by "working my way through," I mean I'm trying to get one test bag made of each of the simple bags Sara Lawson has included in these sets.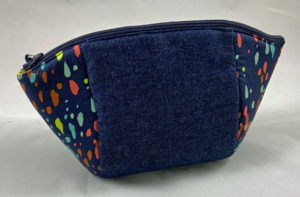 I started with the Cotton Candy Pouch, which has only two pattern pieces (actually, one is just a rectangle – no piece, just the dimensions). For interfacing, it requires foam for the exterior and SF-101 for the lining. The zipper insertion is a little funky, but after several dates with my seam ripper, I finally got it.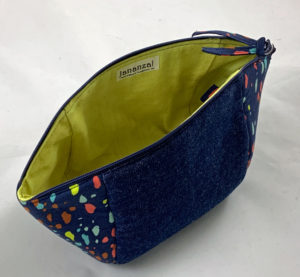 This bag is what we call a "stash-buster." You can use bits of stuff that's lying around to bring it to life. The denim for the side rectangles came from my stash box marked "denim." 😉 The sorta teardrop fabric on the ends is from Cotton+Steel about five years ago. And the lining is "Scratch" from Carrie Bloomston's line for Such Designs, which has been languishing in my stash for about four years. The foam makes the bag stand up, rather than just folding in on itself. I don't love the foam and am going to experiment with interfacing alternatives on a future version.
The finished Cotton Candy Pouch has gone to Florida, to a college sorority sister who admired it and made a contribution to her favorite charity in exchange for adding this bag to her Favorite Things drawer. (She must have a "Favorite Things" drawer. Doesn't everybody?)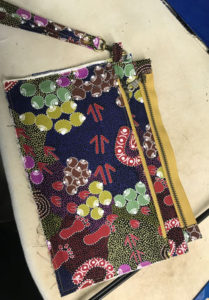 And now I'm working on the Metro Double-Zip Pouch from Sew Sweetness. Here's the Metro, laid out on my ironing board's ugly cover so I could show my sewing pal in Oregon what I was working on. More on that on a later day.
While I was waiting to buy hardware for the Metro above, I jumped over to Swoon Patterns. I bought some fabric several years ago for my eight-year-old Texas granddaughter who is a dancer. I wanted to make a small bag that could serve as a purse, although large for an eight year old, or that she could use on the weekends she spends with her dad. If she only had a few things to take with her to his house, this size bag would be perfect (in my mind).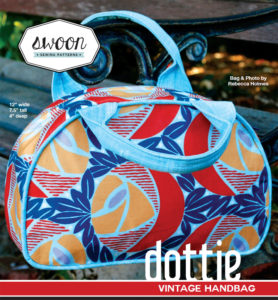 This is Swoon's Dottie Vintage Handbag. The pattern is no longer available on their website, but you might be able to pick it up on eBay or Etsy, if it appeals to you. And they have a newer pattern that looks very similar. The newer one is called the Olive Vanity Bag.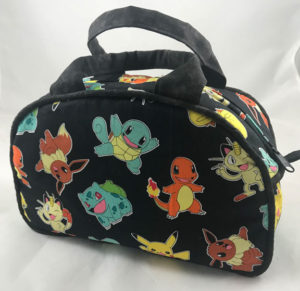 I had about half a yard of Pokémon fabric left from a bag I made about three years ago for a friend's son. I decided to use it up on this Dottie. My goal was to see if I liked the bag enough to make one for my grandsweetie. I normally shy away from piping on bags, but thought I'd give it a try, and it wasn't too bad. I dug through my stash for a lining fabric to match one of the characters, but could find none I like.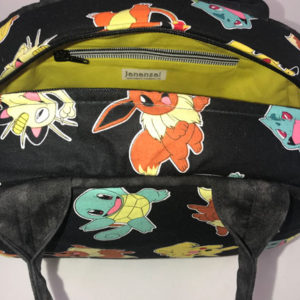 I had recently purchased some Kona Cotton in the pale neutral they call "Snow" to use for some dyeing experiments. i had some MX fiber reactive dye in Lemon Yellow and used a low water immersion technique, shoving a fat quarter of fabric into a quart canning jar. I loved how it came out, the gradations in the color caused by the wrinkles on the fabric in the jar. But it was a little too bright to match the yellow in the print. So I made a batch of strong tea (six regular-size Lipton bags in just enough water in the saucepan to cover the fabric). Voila! The shade of yellow was absolutely perfect for the Pokémon fabric. I'm thrilled with the outcome. The great amount of work and all the fabric and interfacing that went into this bag was rewarded when a friend asked if she could buy the bag as a birthday present for her Pokémon-loving friend. She'll drop by today to pick up the bag, and I'm very happy.
Why am I happy? I learned a lot on these two bags, and they no longer live in my basement. Yea!