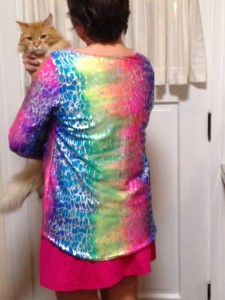 Somewhere two weeks ago I read a sewing blog where the writer talked about some fabric she purchased from NY Fashion Center. Of course I ran over there to see what they offer, and was blown away with this tie-dye web foil print spandex.

Seriously, this fabric is not something I would ever have thought of sewing with. But a shipboard pool and a walk along the beach in Aruba were on my mind, and a little swim mini skirt from Land's End was calling out for a coverup.
While I waited for the fabric to arrive and while I was looking for some free time to spend in my sewing room, I pondered patterns. I burn easily, and we'll be spending ten days sailing around under the equator. So a t-shirt was a better idea than a cardigan or fly-front sweater. I had been eyeing Marcy Tilton's Vogue 9057 for months, and View A looked like just what I needed.
I needed it to go together quickly, and this did. It feels great. I think it looks cute with the miniskirt, and with my Teva sandals, I can walk and swim and generally have a Caribbean blast.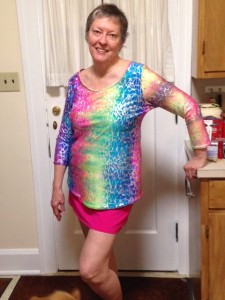 There was one thing I didn't like and wish I had done differently. On View A, the neckband is only 1″ wide. The instructions say to attach it with a double needle, then just press it up. That's a raw edge finish, which I do not like. I could have gone back and cut a wider band, but I was very pressured for time. I moved the band in from the edge of the top seam allowance, so that I was sewing about ¼" on the band and ½" on the top. After sewing the seam, I trimmed off the excess of the neck edge, then wrapped the band tightly around the edge and to the back. I pinned from the right side close to the edge of the band wrapped to the back, then used a double needle to topstitch. It works for me better than the raw edge, but it's not ideal. Ideal would have been to cut the wider neckband from the other views.
For the sleeve hem and skirt hem, I interfaced the inside edge with a ½" strip of fusible tricot interfacing, then turned that ½" to the inside and pressed. I finished the hems with a double-needle topstitch at ⅜".
It's a fun top. It's totally unlike me. And even though I'm not really happy with the finish on the neckline, I'm only ever wearing it to the pool or the beach, and—not to be condescending—no one will ever notice it. (Are you familiar with the sound of a tired musician at the end of the worst month of the year for musicians worldwide? You just heard that sound.)
As I raced to finish pre-vacation sewing, I also made a quick cute batik pillowcase for Jas's travel pillow. I'll blog that another time. And I hemmed the sundress I made in July, using my new Dritz chalk hem marker. I was never pleased with the hemline and needed to shorten and straighten it. It's going into the suitcase along with the t-shirt above. Tomorrow is a party for my new daughter-in-law to meet Jas's and my close friends. She's in town for a few days and I wanted to take advantage of that, despite the fact that we're flying to Florida on Sunday and sailing on Monday.
Whew. Going to bed now. And don't be scared by the photos—that's New Year's Day me with no makeup!
Rudi and I wish you a happy new year.